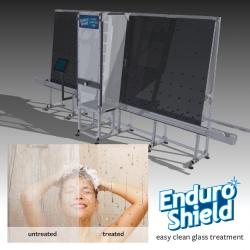 Santa Barbara, CA, May 10, 2017 --(
PR.com
)-- Offer the best easy clean, low maintenance glass treatment to your clients.
- Glass stays cleaner for longer
- Protects against staining and etching
- Protects against cement slurry during construction
EnduroShield is used by many of the world's leading glass fabricators. It enables them to differentiate from the competition by producing easy clean, low maintenance glass that offers great value to customers, and a value added service that drives increased revenue.
EnduroShield's easy clean glass treatment comes with a manufacturer backed 10 year performance warranty*. The coating is sprayed onto the glass in factory and is ideal for all glass surfaces including:
- Shower glass
- Pool fencing
- Balustrades
- Windows
- Insulated glass units
- Acid etched glass
- Sandblasted glass
The new X-Line Automatic Coating Machine takes EnduroShield to the next level.
- Vertical system utilizes single piece in-line flow for effortless line integration
- High speed
- Simple touch screen control
- Online monitoring of performance metrics
- Machine size is customizable upon request
- Economically priced
Take a look at this short demonstration video of the machine in action - https://youtu.be/w30hugD_z2s
Contact us today to discuss how EnduroShield and the X-Line can benefit your business.
* Based on 10 years of simulated normal use and certified by TÜV Rheinland, Germany.