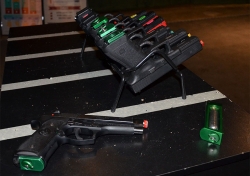 Indianapolis, IN, April 22, 2017 --(
PR.com
)-- Poseidon Experience announces their new service: Church Security Training
Poseidon Experience, www.poseidonexperience.com, an Indianapolis-based indoor virtual Shooting Academy that specializes in advanced skills, announces their new service: Church Security Training.
In response to the increased threat to churches, the team at Poseidon Experience has developed a Church Security Training Program. This 5-day, 15-hour course trains a team of volunteers from your congregation. The content is tailored to your specific needs and ethos. The classes will get into detail with Use of Force decision-making, de-escalation, team communication, developing the proper mindset, managing stress, establishing strong protocols, firearms training, trauma response, et al.
Graduates have the option to return for followup training to continually advance their skills. Poseidon Experience will perform site visits before and after your training. This is to better identify unique threats and vulnerabilities at your location.
"Poseidon Experience did a great job of getting to know our team members and goals. The training provided a solid foundation that we can confidently build on, and is unlike anything that I have seen offered in the state of Indiana… well worth the investment… I highly recommend Poseidon to any church or school that is serious about protecting its own." - Greg D. Horizon Christian Fellowship
More than a simple gun range, Poseidon Experience identifies the actual threat against you, and offers immediate solutions for you to put into action. Your personal safety and security is their top concern.
Jesse Barnett, a retired Navy SEAL, opened Poseidon Experience as a firearms training Shooting Academy for the public. He brought together an Instructor team of former Navy SEALS and Marines. This weapons training system has only been available to select law enforcement and military units until now. The Poseidon virtual theater facilitates accelerated skill development. 100% safe and family friendly. In addition to Church Security Training, they offer Corporate Team Building, weekly Shooting Leagues, and classes from beginner marksman to Concealed Carry. Firearms training is now a fun learning experience for all skill levels. Find out more at
www.poseidonexperience.com
.
Media contact:
Jesse Barnett, jesse@poseidonexperience.com
Owner, Poseidon Experience
9402 Uptown Drive #800
Indianapolis, IN 46256
317.288.5242