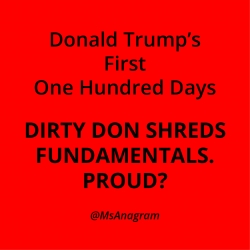 Phoenix, AZ, April 25, 2017 --(
PR.com
)-- While many believe anagrams to be just a word game, through the ages, anagrams have been a tool of linguists, mystics, and literary and historic scholars. An anagram rearranges all letters of a name, place or phrase to make a new phrase. A successful anagram provides some form of commentary, insight or reference relating to the original words.
Operating under the Twitter handle @MsAnagram, a Phoenix-based freelance writer has used her skills to tackle some of the hottest political issues of our time, only to reach some startling results.
Anagrams have been an important tool in her advertising career, usually when naming new businesses or products, Ms. Anagram explained.
"Recently, I was playing around with some political hot topics, and the results were quite astounding. I kept at it, and the insights kept coming. Some of them are quite scary given the volatile political climate we're in right now."
For instance, "Donald Trump Vladimir Putin" equals "I plant dirt. Dump mud on rival."
"Can We Trust Rex Tillerson in Moscow?" equals "Winless clown courts exterminator."
"Donald Trump: Gorsuch will be great!" reveals "Howling Trump led cloture grab. Sad."
"Donald Trump's First One Hundred Days" equals "Dirty Don shreds fundamentals. Proud?"
The title "American Health Care Act" can be rearranged as follows: "A theatrical ahem - cancer!" and "Heartache - A Claimer, Can't." as well as "Catch a earache? Terminal."
"What is Donald Trump hiding in his taxes?" uncovered the phrases: "Explain? I did shadow transmitting. Hush!" and "Did math. Explanation is dirt. Hush. Swing!" - which could be interpreted as a nod to ongoing controversies under investigation by the FBI, and the Commander-In-Chief's regular golf outings - formerly a favorite topic in Mr. Trump's Tweets criticizing President Obama.
While they can be time-consuming, anagrams are an interesting way to get a picture of what's happening in a specific area of your life or business, Ms. Anagram concluded. "Businesses and individuals often make the investment in private anagram readings to get insights into specific areas. Naturally, Finance/Career and Love/Romance are two of the most popular topics."
About Ms. Anagram
Ms. Anagram is a successful freelance advertising and marketing writer based in Phoenix, Arizona. For private anagram readings, brand development or copywriting, contact MsAnagramPrivate@gmail.com. Keep up with the latest anagram topics by following @MsAnagram on Twitter or visit MsAnagram.com.