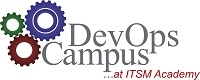 Fort Lauderdale, FL, April 23, 2017 --(
PR.com
)-- ITSM Academy is proud to introduce DevOps Campus at ITSM Academy.
"With the every growing interest in DevOps and Agile IT Service Management training, it made sense for us to stand up a campus inside of ITSM Academy. DevOps Campus allows us to laser focuses on developing and offering the ever growing list of DevOps and Agile ITSM courses available," said Lisa Schwartz, CEO and Co-Founder of ITSM Academy.
Courses included under DevOps Campus:
DevOps Foundation – Available now
Certified Agile Service Manager (CASM)® – Available now
Certified Agile Process Owner (CAPO)® – Available now
Certified Process Design Engineer (CPDE) – Available now
The Phoenix Project – DevOps Simulation – Available now (onsite delivery only)
DevOps Test Engineering (DTE)® – Piloting now, first open registration July 2017
DevOps Leader – Expected delivery (Q3 2017)
Continuous Delivery Architecture (CDA) – Expected delivery (Q3 2017)
DevSecOps Engineering (DSOE) – Expected delivery (Q4 2017)
Site Reliability Engineering (SRE) – Expected delivery (Q4 2017)
DevOps Professional – Expected delivery (TBA)
All the available courses are accredited and offer independent examinations offer at the end of course. Most are accredited through the DevOps Institute.
DevOps Course List
| Agile ITSM Course List
Of course, ITSM Academy, a leader in the US ITIL® Training Space, will continue to proudly develop, deliver and license the full portfolio of ITIL training.
About ITSM Academy
ITSM Academy, Inc., founded in 2003, is a full service provider of IT / Agile Service Management education and advice.… educate and inspire is not just our corporate slogan, it speaks to our core mission and goal.
For more information and to check out our full list of products and services, visit www.itsmacademy.com and follow ITSM Academy on Twitter:
@ITSMAcademy
About the DevOps Institute
The DevOps Institute (DOI) is the global learning community around emerging DevOps practices and is bringing enterprise level DevOps training and certification to the IT market. Working with recognized thought leaders, an international strategic examination partner, and DevOps Express, DOI has set the quality standard for relevant, current and sustainable DevOps course content and certification. For more information about DOI, visit http://www.devopsinstitute.com.