Candace F. (Candy) Abbott Recognized as a Professional of the Year by Strathmore's Who's Who Worldwide Publication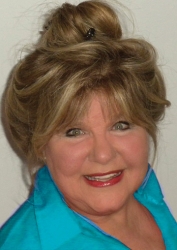 Georgetown, DE, April 25, 2017 --(
PR.com
)-- Candace F. (Candy) Abbott of Georgetown, Delaware has been recognized as a Professional Of The Year for 2017 by Strathmore's Who's Who Worldwide for her outstanding contributions and achievement in the field of publishing.
About Candace F. (Candy) Abbott
Mrs. Abbott has more than 20 years' experience in the publishing field. She is the president of Fruitbearer Publishing, LLC, and has clients throughout the United States. She publishes spiritual, inspirational and Christian themed books as well as children's picture books. Ms. Abbott oversees a team of professionals she calls "Vinedressers" who handle editing, graphic design, marketing, and other aspects of publishing, and she is responsible for the overall direction of the company. Published books include "Fruitbearer: What Can I Do for You, Lord," "Gavin Goodfellow and the Lure of Burnt Swamp" (Book 1 of the Burnt Swamp Trilogy), "Feelings: Prayers for Women in a Wacky World," "Mourning Breakers," "Spirit Fruit perpetual calendar," and "My 30-Day Prayer Diary." Her works are also included in numerous anthologies.
She has temporarily suspended her speaking engagements to care for her husband who has Alzheimer's disease and has just released her latest book, "I've Never Loved Him More: A Husband's Alzheimer's, A Wife's Devotion." Cindy Broschart, an Alzheimer's advocate and the home health care public relations coordinator for Senior Helpers, says, "I've Never Loved Him More is a chronological journey into the unknown and sometimes scary, dark world of Alzheimer's disease. Yet, this book is anything but dark and scary. Instead, it is delightful, funny, and heartwarming."
Best-selling author Nancy Rue says, "Like the true storyteller she is, Candy spins the funny scenes in a way that brings on the belly laughter, sometimes in the midst of tears. It's never forced. It's never inappropriate. It's just true wit born out of a cheerful spirit that cannot be daunted by even this long, trying ordeal." Nancy also says, "With her use of Scripture, Candy doesn't ask the reader to simply read the passages and have faith. Instead, she explains in a practical, concrete way just how those verses work in a life that's being put through the refining fire. Writing truth from a place of authenticity, she speaks in simple terms to the person who is emotionally writhing, offering the benefit of her hard-won wisdom and experience without ever being condescending. She owns her mistakes as well as triumphs."
Mrs. Abbott is affiliated with the Small Christian Publishers Association, the Independent Book Publishers Association and the ISN Works. In her spare time she enjoys family activities and writing.
For further information, contact www.fruitbear.com.
About Strathmore's Who's Who Worldwide
Strathmore's Who's Who Worldwide highlights the professional lives of individuals from every significant field or industry including business, medicine, law, education, art, government and entertainment. Strathmore's Who's Who Worldwide is both an online and hard cover publication where we provide our members' current and pertinent business information. It is also a biographical information source for thousands of researchers, journalists, librarians and executive search firms throughout the world. Our goal is to ensure that our members receive all of the networking, exposure and recognition capabilities to potentially increase their business.
Contact
Strathmore Worldwide
Susan Perrault
516-677-9696
www.strathmoreworldwide.com
Syndi Reibman

Contact