Sylvia Carmelita Smith, M.Ed. Recognized as a Professional of the Year by Strathmore's Who's Who Worldwide Publication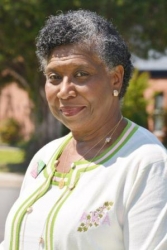 Little Rock, AR, April 25, 2017 --(
PR.com
)-- Sylvia Carmelita Smith, M.Ed. of Little Rock, Arkansas has been recognized as a Professional of the Year for 2017 by Strathmore's Who's Who Worldwide for her outstanding diversity and inclusion contributions and achievements in the medical field.
About Sylvia Carmelita Smith, M.Ed.
Ms. Smith has over 20 years' experience in diversity and inclusion applications in the medical field. She is the Manager of Diversity at the University of Arkansas for Medical Sciences, which is an academic medical center providing patient care, education and research in Little Rock, Arkansas. She created and currently facilitates a diversity process for the Center. She develops training workshops and monthly programs and facilitates crucial conversations regarding diversity and inclusion issues including anti-violence, anti-hatred, cultural competency, implicit bias, generational differences and gender equity. Ms. Smith recognizes employees within departments for their contributions to diversity and inclusion on campus and/or in the community. She is the recipient of a life-time achievement award from the UAMS Center for Diversity Affairs recognizing her exceptional diversity and inclusion contributions to the University and the community. She has been honored nationally and locally with several community service awards and is affiliated with the S.H.R.M., having served as ARSHRM's state Diversity Director. Ms Smith worked for Opportunities Industrialization Centres International (OICI) in Accra, Ghana, West Africa, as an adult basic education consultant. She is a former South Central Regional Director of Alpha Kappa Alpha Sorority, Incorporated and a past president of the Little Rock Chapter of The Links, Incorporated.
Born on August 14, 1943 in Little Rock, Arkansas, Ms. Smith obtained a M.Ed. in Special Education: Learning Disabilities from the University of Arkansas in Fayetteville in 1977. She has one son, Mark Byron Smith, who is employed by Intel. In her spare time she enjoys reading, traveling, volunteering, serving as parliamentarian for non-profit organizations, and performing community service projects.
"We but mirror the world. All the tendencies present in the outer world are to be found in the world of our body. If we could change ourselves, the tendencies in the world would also change. As a man changes his own nature, so does the attitude of the world change towards him. This is the divine mystery supreme. A wonderful thing it is and the source of our happiness. We need not wait to see what others do." – Mahatma Gandhi
For further information, contact www.uams.edu.
About Strathmore's Who's Who Worldwide
Strathmore's Who's Who Worldwide is an international advertising, networking and publishing company based in Farmingdale, New York. They are proud to be able to satisfy their clients and continue to have repeat clientele due to their longevity and pride in their products and services. The Owners strive to connect business professionals to enhance their contact base and networking capabilities so they can get the acknowledgment and publicity within their industries and beyond. The Strathmore family has been providing these valuable services for over two decades. They target executives and professionals in all industries to be featured in their publication and on-line directory. Industries include business, law, education, healthcare and medicine, fine arts, IT, government, science, real estate, entertainment and many more accomplished fields. Professional profiles are listed in an annual hardcover journal and in a detailed, searchable database on the website www.strww.com.
Contact
Strathmore Worldwide
Susan Perrault
516-677-9696
www.strathmoreworldwide.com
Syndi Reibman

Contact