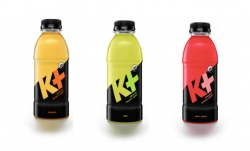 Pacific Palisades, CA, April 26, 2017 --(
PR.com
)-- K+ Organics was established in 2016 by 2 Southern California families who found themselves in a constant battle with sugary snacks, juices and sports drinks that their 6 young athletes would reach for each weekend. Their shared frustration led them to partner with leading nutritionists, world-class trainers and sports dietitians to create a healthy alternative. Now their all new K+ line of products are available to everyone!
K+ Organics sports drinks are made with organic and natural flavors, colorings, and natural sweeteners that provide healthy and essential calories that active kids require. Best of all, each drink is formulated with distinct vitamins and mineral levels vital for your future MVP.
It's time to reclaim the health of our children by tossing out the sugary, chemically infused sports drinks. Take their game and nutrition to the next level by grabbing an Organic K+.
K+ is currently available in Fruit Punch, Orange and Lime flavors at Bristol Farms and Gelson's in the Southern California area with new markets rolling out later this year. The drinks retail for $2.49 each.