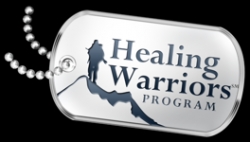 Fort Collins, CO, April 28, 2017 --(
PR.com
)-- Healing Warriors Program will host its annual Golden Ticket Event on Saturday, May 20th at 5pm at the new Block One Events Center located at 428 Linden Street in Fort Collins, Colorado. Keynote speaker for the event is Major Diggs Brown (ret) U.S. Army Special Forces (Green Berets) who in addition to his military duties, provided much-needed support for local children and schools in those war-torn regions.
The Golden Ticket Event will include a full dinner and open bar and host an evening's worth of games complete with prizes, a silent auction and a premiere pie auction!
The Golden Ticket Event benefits the Healing Warriors Program's nonprofit veteran's clinic; funds raised at the event go directly towards providing clinic services for pain, post traumatic stress and sleep issues to hundreds of veterans and their families in the Colorado front range and southern Wyoming areas.
"The funds raised from the Golden Ticket Event are vital to ensuring that our veteran families have the opportunity to receive free non-narcotic care options at both our Fort Collins clinic and in our work with returning active duty troops throughout the metro area," said Ana Yelen, co-founder and Executive Director. "We are here to help our service member families, regardless of age or branch of service."
Tickets for the Golden Ticket Event are $65 for singles, $120 for couples and sells out each year. For more information and to purchase tickets, visit: http://healingwarriorsprogram.org/the-golden-ticket-event-2017/.
About Healing Warriors Program
Healing Warriors Program is a 501(c)(3) nonprofit that provides integrative care for pain and post traumatic stress to service members and their spouses, partners and parents. The mission of Healing Warriors Program is to advance individual well-being for veterans and their families through evidence-based complementary care services and education. For more information, visit http://healingwarriorsprogram.org/