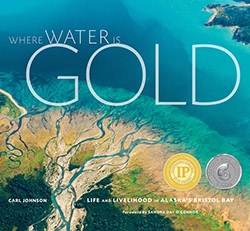 Anchorage, AK, April 27, 2017 --(
PR.com
)-- Carl Johnson, an Anchorage photographer with over 20 years professional experience, has attempted to capture the natural beauty of Bristol Bay's 40 million acres of land and water, and the lives of its 7,259 residents, in 176 pages with the book, "Where Water is Gold: Life and Livelihood in Alaska's Bristol Bay" (Braided River 2016).
He hopes this full-color photography book will highlight the importance of Bristol Bay as a pristine water habitat. As he notes, "The abundance and availability of fresh water is an increasingly important issue throughout the United States. Even in Alaska, where water is abundant, we still need to be careful to protect truly unique areas of critical importance."
But unlike a more traditional conservation photography book, "Where Water is Gold" strove to include many images of people engaged in a variety of activities. Calling it a "photoethnography" of the region, Johnson notes, "You cannot tell the story of Bristol Bay without covering the way of life... The story of Bristol Bay is the people of Bristol Bay."
Johnson's approach to this portrait of a region has paid off. The book was recently awarded a Gold Medal in the 2017 Independent Publisher Book Awards for the "West-Pacific - Best Regional Nonfiction" category and a Silver Medal in the in the 2016 Nautilus Book Awards for the "Green Living & Sustainability" category. Reviews in national and local media have also been adding praise. PDN Magazine notes, "Where Water is Gold is simultaneously an exhaustive, academic, visual cataloguing of a way of life, and a love letter to a place." The Alaska Dispatch News called the photographs "the book's treasure," and that Johnson's "feelings for his subjects and his skill in depicting them are apparent."
Prominent international photographers have also recognized the body of work contained in the book. "Where Water is Gold is a masterpiece and a visual delight, but Carl's caring commitment is what takes it to a higher level," says former National Geographic photographer and conservationist Jim Brandenburg. Amy Gulick, a Seattle photographer who is one of the founding members of the International League of Conservation Photographers, observes, "Carl Johnson shows what's at stake through his beautiful photographs and insightful profiles of people who rely on Bristol Bay remaining what it currently is - a thriving intact ecosystem with people as an integral part."
Prominent Alaskan leaders have provided accolades for this intimate portrait of a region. One of the two surviving members of the Alaskan Constitutional Convention, Vic Fischer notes, "The book is simply beautiful, outstanding... Carl really did a great job providing an intimate view of Bristol Bay and its people." And former Alaska First Lady Bella Hammond, who lives in the Bristol Bay region at a homestead on Lake Clark, praises, "The book is absolutely beautiful, and the photography is outstanding. Everything about it is wonderful."
For more media coverage, reviews and recognition, visit the News page at www.wherewaterisgold.com.
Carl Johnson has been selected to serve as Artist-in-Residence in three national parks, received the "Environmental Issues" award in the Windland Smith Rice International Awards, and is a past recipient of a Rasmuson Foundation Artist Fellowship.