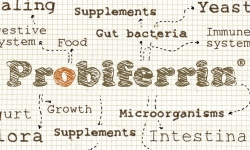 Pomona, CA, May 02, 2017 --(
PR.com
)-- Virun NutraBiosciences rocked out at Ingredient Marketplace in Orlando, Florida April 18-20, at its' Probiferrin booth, and discovered a youthful contingent hungry for new ideas. Virun's website has been relaunched with a new, modern look and feel, concentrating on informative impact and innovative spirit.
"This show was crazy! We were so busy that bathroom breaks were out of the question," states Virun CEO and Co-founder, Philip Bromley. He doesn't seem to mind the lack of bladder relief, however, now that the show is over. "We were definitely the busiest booth at the show," he continues, "and I am impressed by the number of millennials making decisions now in our industry." Philip explains that he is seeing a shift in the nutritional/functional foods and beverages industry; that large corporations are hiring young, millennial-generation individuals, and these new business leaders are motivated by, and hungry for, innovative products and experiences. "The response to Probiferrin and Virun's other technologies has been incredible." Philip will be busy for quite a while, following up with interest generated by Ingredient Marketplace, but he is already gearing up for Supplyside West, during which Virun will have an island booth featuring an actual plantation-style house (complete with bar, of course), set during the Industrial Revolution. Supplyside West runs September 25-29 at Mandalay bay in Las Vegas, Nevada.
On April 24, Virun's website relaunched with a new look and an ultra-informative, easy to follow format. The website features Virun's technologies and focuses on creative product development. There are useful explanations and insights for large companies and small start-ups alike, and the site carries direct links to Virun's popular STATIC blog and video series. Whether a company is interested in Virun's patented technologies, manufacturing capabilities, or simply wants to know where to start to develop a new product, the new website delivers with excitement and punch.
Upcoming STATIC 3 teaser: Girl Punk Rock Band, mosh-pit at Virun facility and more; not to mention the unveiling of finished product oddities. Those interested in learning more can contact Virun at www.virun.com or innovate.today@virun.com.
About Virun NutraBiosciences:
Founded in 2003, Virun NutraBiosciences was formed to create nutritious, great tasting and novel formulations for the food, beverage, supplement and pharmaceutical industries. Located in Pomona, California, Virun is a fully integrated research, production and manufacturing facility that quickly conceptualizes ideas to create innovative custom bulk blends and finished products for contract manufacturing. Virun is the only biotechnology company that owns over 80 patents worldwide and develops technology around biochemistry practices. The company came to notoriety with its Esolv OmegaH2O technology which incorporates omega-3 EPA DHA into clear, clean-label-claim, shelf-stable beverages without a fishy taste. Virun's other innovative solutions and brands include DPtechnology, Probiferrin, AstaxH2O, Esolv, and numerous Esolv compounds including PQQ, Co-Q10, lutein, curcumin, phytosterols, CBD, MCT oil and more.
For more information, contact www.virun.com.