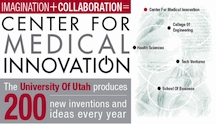 Salt Lake City, UT, May 06, 2017 --(
PR.com
)-- Dr. John Langell and Dr. Bernhard Fassl, to speak at World Health Organization Medical Device Session in Geneva Switzerland on May 11th. Their talk on "Designing High Quality Global Health Technologies" will highlight the unique processes their team at the University of Utah have pioneered in global health innovation. "Global health innovation should focus on smartly designed, high-quality solutions with tailored regional business models, not lower quality technologies for developing regions," said Langell. Dr. Langell is Vice Dean of the University of Utah School of Medicine and the Executive Director of the University's Center for Medical Innovation (CMI).
CMI has led the development and implementation of multidisciplinary academic programs in healthcare innovation, education and technology translation. The team at the Center for Medical Innovation have been able to leverage diversity of thought and create worlds-class programs. The impactful work coming out of CMI has been recognized by the Wall Street Journal (
https://www.wsj.com/articles/new-low-cost-surgical-tool-could-help-patients-in-third-world-1474855620
), Fast Company and the American Medical Association, among others. In all, the Center for Medical Innovation has assisted with the development of more than 150 medical technologies and facilitated the launch of over 50 new ventures.
http://healthsciences.utah.edu/center-for-medical-innovation/