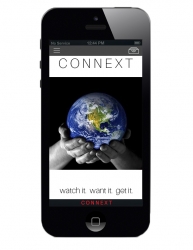 Los Angeles, CA, May 08, 2017 --(
PR.com
)-- Reedeux announced today that the new media company is emerging from stealth mode, and after three years is well-positioned to dominate the global media industry.
"Hollywood is in trouble," said Federico Pacquing, Reedeux's founder and Chief Executive Officer. "Over the last decade the way people watch television has changed dramatically. A Nielsen rating is not important if consumers DVR past commercials. Advertisers are questioning their media expenditures and now require ROI justification." Pacquing, a graduate of the US Air Force Academy, is a seasoned technology executive, and a successful serial entrepreneur.
Launching in 2017, Reedeux's proprietary CONNEXT applications will be integrated within television shows, creating a cause and effect relationship between dollars spent and sales generated. Both the entertainment industry and celebrity talent are continuously looking for ways to maximize their profit. CONNEXT applications will enable them both to better capitalize on their individual audiences.
According to Robert Cambridge, Reedeux's Chief Media Officer and a 40-year veteran of the entertainment industry, "The industry is ready for a revolution. Like David with his sling, CONNEXT is perfectly positioned to slay any of the traditional Goliath's that have been unresponsive to the advertisers' needs. With nearly 90% of people fast forwarding through commercials and millennials cord cutting at unprecedented rates, Hollywood, distributors and cable companies need to find new means to monetize."
"CONNEXT is positioned to assist producers, networks, distributors and cable companies find innovative ways to make money," stated Robert Shippey, Reedeux's Chairman and a senior financial executive with over 40 years of experience. "I am pleased that we have an aggressive CEO and veteran senior management team who understand both technology and entertainment, and who can lead the Reedeux initiative to achieve its revolutionary goals."
Reedeux is launching dozens of interactive shows over the coming year, both online and on broadcast television. The company will also launch its own CONNEXT-enabled broadcast and online shopping network and application this fall. These and other initiatives will help change the current business model for the entertainment industry and help investors see quantifiable returns.
"Media investors currently have a better chance of making money playing roulette in Las Vegas than investing in television shows," said John Dong, Reedeux's Chief Financial Officer. "CONNEXT will literally drive sales within our celebrity-centric programming resulting with our shows quantifiably making a profit. The probability of a higher return on investment is much greater than traditional movie and television shows because of this in-show revenue generation."
"The media industry is ready to change," said Pacquing, "technology has already begun to disrupt entertainment. Reedeux, with CONNEXT and our programs, will help both our sponsor and media partners navigate through the coming chaos. Reedeux will be announcing dozens of relationships over the coming weeks, many with household brands ready to take advantage of this incredible opportunity. We're excited to be an integral part of the profound changes that will be occurring very shortly in Hollywood and across global media."
About Reedeux Media
Reedeux Media will revitalize television and media by allowing our sponsors to turn impression-based advertising into sales. Have you ever seen a product on a television show and wanted to buy it? Reedeux's CONNEXT application will allow TV viewers to know exactly what the products are in a program and purchase them with the click of a button. Like the purse? Buy it. That recipe for an Italian soup? Save it. A heart-warming story about an unlikely hero? Share it. The CONNEXT platform synchronizes with both streaming video and live television through sound cues embedded in the media.
By making television interactive, Reedeux's corporate customers no longer have to guess if consumers will buy their products…. they see sales happen by the thousands while a program is aired. Consumers will be drowned in media and advertising messages. By allowing for the impulse buyer, CONNEXT breaks through the noise and is the Holy Grail for advertisers. Reedeux allows our partners an unparalleled look into buyer and audience demographic information which enables them to effectively develop their sales campaigns. For more information, visit
www.reedeux.com
.