New Balance Technology Helps Diabetic Man Walk Again
"I put them on, and it was like a miracle," says neuropathy sufferer and study subject, Mr. Tim Kelley. Walkasins work by restoring sensory signals that are not functioning normally in patients with neuropathy. This immediate restoration of sensory function also impressed Dr. Diane Wrisley of Wingate University. "His brain learned to use the Walkasins immediately," says Wrisley. "He put them on and it was like, 'Wow! I know where I am in space.' His improvement is phenomenal."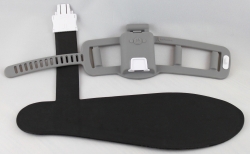 Minneapolis, MN, May 10, 2017 --(
PR.com
)-- RxFunction, manufacturer of Walkasins® - the first Wearable Sensory Prosthesis to help improve balance, announced exciting results from an ongoing research study at Wingate University on the long-term benefits of Walkasins use. Walkasins help improve gait and balance in patients who have peripheral neuropathy, a condition that significantly increases the risk of falling due to loss of balance. The Foundation for Peripheral Neuropathy reports an estimated 40 Million Americans have some form of peripheral neuropathy, most commonly due to diabetes or chemotherapy.
Over 40% of diabetic patients develop neuropathy, which negatively affects quality of life and confidence to walk without falling.
"These exciting results have exceeded our expectations and illustrate how Walkasins can significantly improve the lives of millions of patients who experience gait and balance problems due to peripheral neuropathy," says Dr. Lars Oddsson, co-inventor of the technology and President of RxFunction. "This is a game-changer that can improve health and quality of life and help decrease healthcare costs," says Dr. Oddsson.
With neuropathy, "you don't know where your feet are in space," says Dr. Diane Wrisley, Principal Investigator of the study and Director of Post-Professional Programs for Wingate University's Department of Physical Therapy. "It's like you're walking with bricks on your legs."
Tim Kelley, a volunteer participant in the research study at Wingate developed diabetes three years ago. Kelley lost his truck driving license, his career of 31 years, as he became unable to drive due to his peripheral neuropathy. Over the next three years, Mr. Kelley lost confidence in his ability to walk and move safely, gained 30 lbs and even used a wheelchair for getting around. He attended physical therapy in the months leading up to the study but had noticed limited improvements.
Mr. Kelley has shown dramatic changes following his participation in the Walkasins study at Wingate University. "I put them on, and it was like a miracle," Kelley says. Walkasins work by restoring sensory signals that are not functioning normally in patients with neuropathy. This immediate restoration of sensory function also impressed Dr. Wrisley; "His brain learned to use the Walkasins immediately. He put them on and it was like, 'Wow! I know where I am in space.' His improvement is phenomenal," Wrisley says.
Dr. Wrisley has tracked Mr. Kelley's improvement in gait and balance using standardized measurement tools, the Functional Gait Assessment (FGA) and the Mini Balance Evaluation Systems Test (Mini-BEST). After a month of daily Walkasins use, these measures have continued to improve even further. "We may be maxing out the FGA and Mini-BEST. He almost has perfect scores in them," Dr. Wrisley said. What this means for Mr. Kelly is that he has gone from using a wheel chair to get around to now where he can walk 2-3 miles with confidence.
Dr. Wrisley has seen Mr. Kelley's self-confidence improve immensely with Walkasins use as measured by the Activities Specific Balance Confidence scale (validated clinical outcomes measure). Patients with a confidence score below 67% are predictive to have an 84% chance of falling. Mr. Kelley has changed from 24% to 74% (on a zero to 100% scale).
Another measurement of improvement is Mr. Kelley's increased walking speed which has improved more than 0.5m/s since using Walkasins. Walking speed is an important indicator of overall health and has been termed "the Sixth Vital Sign"; it's a simple measure that can predict future health status, physical decline, adverse events and even death. Studies have associated increments of 0.1 m/s of walking speed improvements with improved health status, less physical disability, fewer hospitalization days, and a one-year reduction in medical costs of $1,188.
"We're thrilled to be able to report these results during Peripheral Neuropathy Awareness Week," says Dan Leach, CEO of RxFunction. "We're energized by the exuberance shown by our trial patients and are looking forward to helping millions of people who have peripheral neuropathy with the release of Walkasins later this year."
Interview with Mr. Kelley (trial patient at Wingate University, NC):
youtu.be/MEq-nRnsAVU
Once on the market, Walkasins will be available by prescription following an assessment for neuropathy, clinical need, and physical benefit.
About RxFunction Inc.
RxFunction Inc. is a wearable technology company with an initial focus on developing and leading a new business segment within the U.S. medical grade assistive technology marketplace. The Company's vision is to improve physical ability for social participation and quality of life. Privately held and headquartered in Minneapolis, MN, RxFunction has taken assignment of patented technology developed by Co-founder, Dr. Lars Oddsson, as a research professor at Boston University's Neuromuscular Research Center, and funded privately and supported under grant No.AG040865 awarded by NIH's National Institute on Aging. Walkasins have not been submitted to the FDA for review, and are not available for sale at this time.
Additional information about RxFunction is available at
www.rxfunction.com
Press Contact:
Dan Leach, dleach@rxfunction.com
Contact
RxFunction, Inc.
Dan Leach
612-208-3303
www.walkasins.com

Contact
Multimedia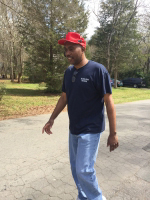 Tim Kelley demonstrating using Walkasins during a walk in his Monroe, NC neighborhood.