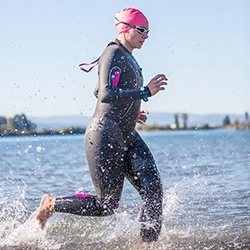 Indianapolis, IN, May 11, 2017 --(
PR.com
)-- Attention Ladies! The National Institute for Fitness and Sport (NIFS)
Go Girl Triathlon Training Program
prepares you for the Go Girl Triathlon at Eagle Creek Park on August 26th. Training begins at 5:30pm on Tuesday June 20, 2017 at NIFS in downtown Indianapolis.
Whether you are new to triathlons or have done a few in the past, the NIFS training program offers three different skill level training plans to ensure that you are training appropriately for the race. Our USAT Certified coaches and fitness specialists at NIFS have developed this tri-training program to help you train the right way.
Past participant, Holly Drendel, said this about her experience, "The training is fantastic! Not only do you feel great about yourself in general, you have the support of great coaches to help with the mental and physical demands of it. They've been there and know what you are experiencing. For a beginner like myself, it was great and I will most definitely be participating again next year! This was a great group of women, hands down!"
This 10-week program meets at a NIFS, the IU Natatorium on the IUPUI campus, and Eagle Creek Park to complete a weekly workout of running, biking, swimming, or a combination of the disciplines, each Tuesday from 6/20-8/26 from 5:30-7pm. The program includes race entry into the Go Girl Triathlon, detailed training plan, a program t-shirt, weekly snacks and refreshments, and a post-race party.
To register, or for more information regarding the NIFS Go Girl Training Program, call Kris Simpson at (317) 274-3432, ext. 211 or visit www.nifs.org to register online.
About NIFS
National Institute for Fitness and Sport is a non-profit organization committed to enhancing human health, physical fitness and athletic performance through research, education and service.