OnPoint Manufacturing Announces Partnership with Mack and Daniel Clothing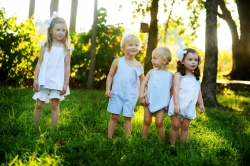 Florence, AL, May 17, 2017 --(
PR.com
)-- OnPoint Manufacturing, Inc., a Performance HealthCare Products, Inc. company, and an innovative leader in on-demand apparel manufacturing, today announced a partnership with Mack and Daniel Clothing to produce their children's clothing line.
Through this cooperative effort, Mack and Daniel is working closely with OnPoint Manufacturing to provide top-notch children's clothing to their clientele. They will be utilizing OnPoint's innovative on-demand manufacturing solution to accomplish their goal. The partnership between Mack and Daniel and OnPoint Manufacturing is the perfect blend of what the future holds for apparel manufacturing.
"We are thrilled to be working with Mack and Daniel Clothing to manufacture their children's line of apparel. We are dedicated to building a lasting relationship with the children's fashion house by delivering personalized service and a top-quality product," says J. Kirby Best, Chairman, OnPoint Manufacturing.
"Working with OnPoint has been a true pleasure. As a designer I am able to take full advantage of OnPoint's innovative system to deliver the best product with exceptional quality and quick production time.
"They have a very professional and proficient production team that have exceeded my needs, and since I have been working with OnPoint I have seen true growth in my business," stated Melanie Harrison, Mack and Daniel Clothing.
About OnPoint Manufacturing, Inc.
OnPoint Manufacturing specializes in Purchase Activated On-Demand Mass Customization of apparel. OnPoint has developed technically advanced manufacturing and distribution solutions for the apparel industry. Our factory model automates and integrates almost every aspect of the manufacturing process from order entry to delivery. The integrated components that are driven by complex software allow OnPoint to manufacture millions of unique SKU's on-demand reducing inventory costs and streamlining the whole supply chain. Founded by CEO J. Kirby Best, OnPoint maintains a manufacturing facility in Florence, Alabama, with headquarters in Nashville, Tennessee.
Media requests may be directed to OnPoint Manufacturing, Inc. Director of Marketing Christopher Taylor at 615-900-9022 or via email at Chris@onpointmanufacturing.com.
Contacts
J. Kirby Best, (615) 330-2407
Chairman
Kirby@onpointmanufacturing.com
Christopher Taylor, (615) 900-9022
Director of Marketing
chris@onpointmanufacturing.com
Contact
OnPoint Manufacturing, Inc.
Christopher Taylor
615-900-9022
www.onpointmanufacturing.com
J. Kirby Best
(615) 330-2407
President and CEO
Kirby@onpointmanufacturing.com

Contact