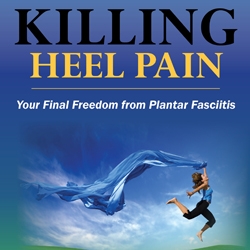 Scottsdale, AZ, May 17, 2017 --(
PR.com
)-- A new book that shows how to beat plantar fasciitis – the most common source of agonizing and debilitating heel pain – is available as a free download at
Amazon.com
for two days only, starting today, according to author Karen L. Smith, DPM, a foot-and-ankle surgeon from Arizona.
Called "Killing Heel Pain: Your Final Freedom from Plantar Fasciitis," the 128-page, easy reading, vividly illustrated how-to guide hit print April 4 at its regular price of $15.85, but will be offered at no charge in electronic form between now and Thursday, May 17, Smith said.
"I feel it's important to put this book in the hands of as many plantar fasciitis sufferers as possible because it's such a troublesome foot condition," she explained. "During their adult life, more than one in 10 Americans will develop plantar fasciitis. More than 2 million cases are treated each year in the U.S. alone."
In "Killing Heel Pain," Smith reviews strategies for treating plantar fasciitis – frequently and incorrectly referred to as heel spurs. "I've written the book to help sufferers who have limited or no healthcare coverage as well as those who have great coverage but were disappointed that the condition seemed to defy treatment," the author said.
"For example, custom orthotics – supports worn inside shoes – are very helpful for plantar fasciitis, but often cost more than $400, bad news if you don't have good coverage. Over-the-counter orthotics cost around $35 and can also be beneficial, but they are a waste of money if the incorrect type.
"I guide readers on how to select the right type of orthotic and the right type of shoes based on their individual lifestyle. For sufferers who have failed traditional conservative methods, I review different high-tech treatment options and what to expect when considering surgical treatment."
Summer can be a "blooming season" for plantar fasciitis, often because that is the time of year people become more active, Smith said.
"A sedentary winter lifestyle followed by a sudden increase in activity can trigger plantar fasciitis," she indicated.
Most people who have experienced plantar fasciitis learn that their painful heel can seem to partially resolve, only to flare up again later, Smith said. "It's a notorious loiterer," she warned.
Smith said the declining availability of health insurance and shrinking provider-networks also deserve blame for the problem of heel pain.
"Plantar fasciitis too often goes untreated – and the reason for that is many people who could benefit from a podiatrist's care can't get insurance to authorize treatment or can't afford to meet the currently high out-of-pocket deductibles their plan requires," she explained.
"In 'Killing Heel Pain,' I offer tips to help you know when to see a physician and what to expect. I also explain how to get the most benefit from whatever your doctor recommends.
"I cover the self-treatment homework that every person with plantar fasciitis should be doing. Tips for immediate pain relief and what steps will start the healing process."
Plantar fasciitis responds best to a comprehensive approach, Smith conveyed.
"We treat it from several angles at once," she said. "Unfortunately, it isn't possible to explain the 'why' behind all of the advice we give patients about plantar fasciitis in a single office visit."
Smith said some patients don't experience much relief from heel pain because they have a hard time understanding the practicality of the advice their doctor gives.
"It's hard to follow even simple recommendations when it's not readily apparent how or why those recommendations help relieve pain," she asserted. "For example, your doctor recommends you stretch your calf muscle every day. Why? The illustrations in my book help you see the reason. The illustrations translate this complex condition into easily understood visual terms."
The best treatment for plantar fasciitis depends on the individual, according to Smith.
"Treatment strategies that work for some patients won't always work for others," she conceded. "That is the focus of my book, helping sufferers find what works best for them and their lifestyle.
"What makes 'Killing Heel Pain' different from other books on this subject is how user-friendly it is. You can quickly find detailed, straightforward answers to your burning questions about heel pain. I want you to achieve total pain relief as well as complete healing – final freedom – from this life-intrusive condition."
About Karen L. Smith, DPM
Karen L. Smith is a licensed podiatrist and foot-and-ankle surgeon who trained at the prestigious Highlands Foot and Ankle Institute in Denver, Colorado. She earned a doctor of podiatric medicine degree from Barry University School of Podiatric Medicine and Surgery in Miami Shores, Florida, where she also obtained a master's degree in biomedical sciences.
For more information, contact Smith at info@blueviperbooks.com