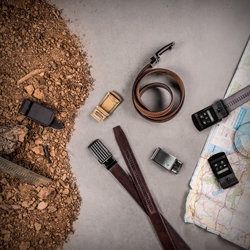 Sacramento, CA, May 18, 2017 --(
PR.com
)-- If you've ever wanted to get in on the ground floor of your favorite start-up – going beyond just owning their products – now you can. Thanks to Regulation Crowdfunding (Reg CF), a provision of the JOBS Act, it's now possible for anyone to own a piece of the brand itself.
No longer do passionate consumers need deep pockets and a six-figure income to invest in a private brand they love. Reg CF allows any interested investor – whether accredited or non-accredited – to join a fundraising round of a promising startup.
SlideBelts
, an innovative ratchet belt company pushing the limits of both the design and the function of an age-old fashion accessory, is the latest equity crowdfunding success story. The Northern California-based company raised $250,000 in the first week of its offering on the crowdfunding platform,
StartEngine
. Currently, the company has raised over $400,000 and that figure continues to rise.
With Goldman Sachs estimating that equity crowdfunding can eventually be a $1.2 trillion opportunity, it's no wonder why pioneering startups are turning to Reg CF as a viable alternative to more traditional forms of fundraising.
For a private company like SlideBelts that has been around for several years and amassed many passionate supporters and brand fanatics, it's a win-win situation. "Regulation Crowdfunding is an incredible opportunity for us to offer those who already own a SlideBelt and love the brand, a chance to be a part of our future in a more meaningful way. This gives our guests the chance to go from a consumer to an investor, with a piece of ownership in the brand and the product they already believe in," says Brig Taylor, Founder and CEO of SlideBelts.
With the slow-but-steady rise of equity crowdfunding, the playing field has been leveled, making it easier for enterprising consumers to participate in investment opportunities that wouldn't be available to them otherwise.