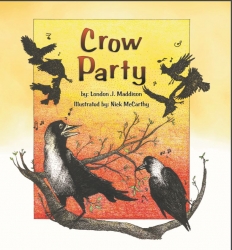 Laguna Niguel, CA, June 03, 2017 --(
PR.com
)-- "Crow Party," a highly entertaining children's book written by London J. Maddison and Illustrated by Nick McCarthy, was published this week by Lulu Publishing Services. The author and illustrator have created the book as a teachable opportunity for parents and teachers, similar to their first collaboration published in 2016, "Mak the Kraken."
"Crow Party" provides a whimsical look at the behavior of crows written in a tone of lighthearted annoyance, with the many incidents and antics that we encounter with our mischievous feathered friends. The story is intertwined with snippets of advice about dealing with crows, from a lightly humorous perspective geared at teaching children to observe wildlife while accepting and respecting creatures that have learned to share urban areas with us. From their "CAW, CAW, CAW" communications calling friends and family to their artful ways of stealing food from farms, backyards and trash cans, it is a story of crows and their party-prone behavior. The book, a hybrid publication between a picture book and early reader book, teaches about their interaction, communication and intelligence in a lively and amusing paperback.
Inspired by science, research and the desire to help children look inquisitively at the urban wildlife that surrounds them, "Crow Party" promises to become a favorite for children, while also entertaining adults who are reading to them.
"The way Nick has so wonderfully captured the personalities and bad behavior of crows in his illustrations for 'Crow Party' combined with the lively tempo of the narrative intend to delight children, whether they are being read to or whether they are reading it themselves as early readers," indicated London J. Maddison. "We are both very excited to put 'Crow Party' in the hands of children everywhere."
Buy the print version on Lulu.com: https://www.lulu.com/shop/search.ep?keyWords=crow+party&type=
It will soon be available as an e-book as well as on Amazon and Barnes & Noble.
About the Author, London J. Maddison
The author is certified by the American Institute of Certified Planners and is a LEED Accredited Professional who has written about the environment for over 30 years, with over 300 published articles, documents and stories. London J. Maddison is a pseudonym used to separate professional and writing careers. A first generation American of British heritage, London works and resides in California and Hawaii. Additional publications by London are in various stages of the publishing process. https://sites.google.com/site/londonjmaddison/
About the Artist, Nick McCarthy
Nicholas (Nick) McCarthy is a San Francisco, California Bay Area local, living in Concord, CA. Nick attended California State University, Monterey Bay where he received a Bachelor of Arts Degree in Mixed Media Design. Nick specializes in illustration, focusing on pointillism and realism. He is involved in exhibitions all around Northern California and across the country, having illustrations at the National Steinbeck Center in Salinas and the Bedford Gallery in Walnut Creek, CA. Some of his book illustrations have been featured in past and will be featured in future exhibitions. Nick was also the artist for "Mak the Kraken."
Nick can be contacted at nick5036@gmail.com or through his website: https://nicholasmccarthy@allyounet/4975584