Ex Catholic Provides Materials for Catholics from EvangelicalOutreach.org
"Good News For Catholics" contains five of the most important spiritual truths that Catholics need to know, according to ex-Catholic Brother Dan Corner of EvangelicalOutreach.org. With 1.3 billion Catholics scattered throughout the world and 23% of the United States population, this gospel tract has incredible potential for the good of their eternal souls.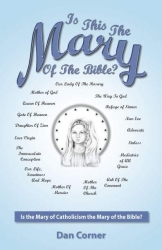 Washington, PA, July 05, 2017 --(
PR.com
)-- Brother Dan Corner of EvangelicalOutreach.org is an
ex Catholic
who is announcing a brand new gospel tract that is loaded with soul stirring information for Catholics. Brother Dan Corner became a bible-defined Christian by reading and acting upon the biblical message – repentance towards God and faith in Christ Jesus (Acts 20:21). He was set free from his sin addictions (Rom. 6:22), became a new creation in Christ Jesus (2 Cor. 5:17) and strongly desires to share his findings and thoughts about salvation with everyone, including Catholics, as follows:
Brother Dan Corner once wore a
brown scapular
and as a Roman Catholic, was a strong believer in the message of the "approved" Marian apparitions at Fatima in 1917 –
Our Lady of Fatima
.
The entrance of God's word brings light (Psa. 119:130). As Brother Dan read the Bible his thinking became more clear and God's truth enlightened his soul revealing how the "father of lies" – the devil – (Jn. 8:44), can come as an angel of light (2 Cor. 11:14) and even produce
miracles
(Rev. 16:14; 2 Thess. 2:9-11; Ex. 7:22; etc. ) to deceive. The devil is not in hell now, but is trying to religiously deceive mankind to devour them (1 Pet. 5:8). Adhering to the Biblical message is 100% safe and the way to know God's truth – the basis for all true Christian doctrine (2 Tim. 3:16,17).
This brand new
gospel tract
written by Brother Dan for Catholics is entitled, "
Good News For Catholics
." It is available through Evangelical Outreach and contains 5 important truths Catholics need to know. It can also be located on the much larger
print free tracts
page on EvangelicalOutreach.org
The main website page for Catholics is loaded with documented materials and bible references for the truth hunter. Such information for the
Catholic answers
a wide range of subjects relevant to the Papist and is not typical, especially in our dark, ecumenical and compromised religious day.
Brother Dan Corner is also the author of a 296 page book written for Catholics entitled,"Is This The Mary of the Bible?" It addresses the most important titles and roles attributed to the Catholic Mary by popes to Catholic saints, which he believes are a gross and mythical fabrication of the real Mary of the bible, based on scripture. By citing scores of scriptural references, his book, "Is This The Mary of the Bible?" exposes the common Catholic reader to things in God's word he didn't know was available – being surprised by the truth. "Is This The Mary of the Bible?" is available for only $14.50 plus postage at
Christian books
. Evangelical Outreach, P. O. Box 265, Washington, PA 15301. Email at evangelicalholiness@gmail.com 724-632-3210. God bless you.
Contact
Evangelical Outreach
Brother Dan Corner
724-632-3210
https://www.evangelicaloutreach.org
contender@evangelicaloutreach.org

Contact