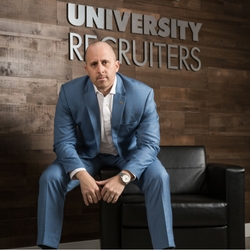 Fulton, MD, June 12, 2017 --(
PR.com
)-- University Recruiters is turning the recruiting industry on its head with its "common sense pricing" model, and the world is noticing. The innovative model charges a flat rate based on the successful placement of a job applicant, unlike today's commission driven recruitment that incentives recruiters to push candidates into positions that will snag them the most money. On average, University Recruiters clients save $3,000 per hire, leading companies to cut recruiting costs and hire more people. From high growth start-ups to established Fortune 500 companies, businesses trust University Recruiters to find the best talent on the market.
"When I started the company, everyone thought I was crazy, but with all the press we've been getting, suddenly everyone wants to be a part of something special," says Jeff Martin, President & CEO of University Recruiters. "Being different is what sets us apart."
While the competition relies on technology, University Recruiter's "human touch" makes them stand out. In addition to utilizing the latest technology, the University Recruiters team believes in the power of one-on-one phone conversations with candidates to better understand their needs.
The model is unique, affordable and effective. It is designed around simple principles:
- Offer a person-focused model centered around the candidates' wellbeing
- Connect business professionals with long-term careers
- Match as many tailored business opportunities to candidates as possible
University Recruiters offers candidates a step-by-step process to make them presentable, professional and hirable. It starts with learning their short- and long-term goals. The team then helps candidates refine their social media presences and enhance their resumes. Finally, they put the candidates in front of the the right employers that can offer opportunities for growth.
"Recruiting is on my mind 24 hours a day, and I won't rest until I've built the world's greatest recruiting firm," Martin said. "My team and I will outwork the competition every day of the week."
About University Recruiters:
University Recruiters
is a full-service staffing firm based in Fulton, MD. President & CEO Jeff Martin created the company to revamp the recruitment industry by focusing on candidates' well-being and cutting company cost.