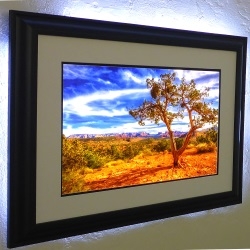 Miami, FL, June 14, 2017 --(
PR.com
)-- Have you ever wondered why regular people can't find pictures for sale that can shine at night with back-light? Why you only see them in advertisements at shopping centers or cinemas? After a lot of research, development, trial and error, the founder of PicturAlive.com (Electronic Engineer, Inventor and Amateur Photographer) found a solution to this problem for an affordable cost for families and companies.
Those advertisement back-light pictures are not for sale because nobody wants them: They are expensive, don't have a high-resolution quality and when you turn the light off, the colors fade dramatically. The new founded company "PicturAlive" developed innovative products and processes to fix all these disadvantages and produce shiny pictures that can be displayed beautifully with back light on or off.
"Since I was a kid I wanted to create something like this, but the technology was not ready," said Eugenio Gallardo, founder of PicturAlive.com, "The most difficult part was to create the sheet of paper that can display properly a printed picture, during the day or night and with back-light on or off."
"It feels like the picture came to life!" said one of his customers. "You are turning on and off the Sun!" said other customer seeing the difference in a landscape picture, with the frame turning on or off during the day. "At the beginning I thought it was a HDTV, but because of its high resolution, I knew it was some kind of special picture."
PicturAlive provides not only the Back-Light Frame, it provides the service to print your custom picture in the special sheet of paper needed to be able to produce this effect, all at an affordable cost and delivered to customer's house ready to hang on the wall. You can read more information about this new product at
www.PicturAlive.com
or be one of the first to buy one of these pictures in the Kickstarter project that will end July 20 at
www.PicturAlive.com/kickstarter
.