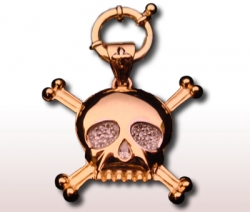 Los Angeles, CA, February 13, 2008 --(
PR.com
)-- Distinctive Assets, which distributes the "Everybody Wins at the Oscars" gift bags, announced today that they have selected Gothic Dog's iconic skull and crossbones dog collar charm to be included in the gift bags for all the non-winning nominees in the five principal categories. Cast in 14kt yellow gold to capture the spirit of Oscar®, the limited edition charm is encrusted with pave diamonds in the skull's eyes and has a pear-shaped diamond solitaire for the nose. The charm is also engraved with a serial number on the base. Known as Bensley's Skull and Crossbones, the charm is named after a ship's captain and his dog who Gothic Dog's founder, Jennifer Barber, met on a beach in Mauritius. This version will also be available in a limited number to the public.
Among the most expensive items in the Gift Bag, the limited edition charm retails for more than $2,000.00. The charm will be presented in a custom-designed box, which is hand-finished, and features a protective velvet veil on the interior and push-button clasp closure on the exterior. Asked for comment, Jennifer Barber, beamed: "Gothic Dog is so pleased to be included in this year's Oscar celebration, and we're confident that the nominees will be delighted when they see their best friends sporting the Bensley's Skull and Crossbones on their dog collars! There is no doubt that these lucky dogs will echo the class and distinction of their nominated owners." Barber noted that the box itself is a keepsake, and added, "some owners have even been known to wear the charms themselves as pendants. You might see Gothic Dog on the red carpet!" Like all of Gothic Dog's jewelry designs, Bensley's Skull and Crossbones began as a drawing by Barber, sketched upon her return from a trip to the islands of the Indian Ocean.
Each of the non-winning nominees in the categories of Best Actor, Best Actress, Best Supporting Actor, Best Supporting Actress, Best Director, as well as Host Jon Stewart, will receive the gift bag, including the luxurious Gothic Dog charm. Constructed of the finest materials, including superior quality diamonds, this charm, like all Gothic Dog jewelry, is a custom design, hand-made and manufactured in Orange County, California. Each charm in the limited edition series is numbered on the base. The balance of the limited number of identical charms will be available for retail sale through Gothic Dog's website (www.gothicdog.com) and at select retailers.
Built on the passionate connection between dogs and their owners, Gothic Dog encourages their patrons to Reward Loyalty. Gothic Dog offers pet owners an expansive and growing line of luxury products, with many items adorned with diamonds, sapphires, and other precious gems. It appears that at this year's Oscars, the nominees will exemplify Gothic Dog's motto and provide A Girl's Best Friend for Man's Best Friend.
(The "Everybody Wins at the Oscars®" Gift Bag has no affiliation with A.M.P.A.S or the official Oscar ceremony.)
For more information, call Gothic Dog at 1.310.866.3920 (America) or 33.1.70.72.59.47 (France), or visit Gothic Dog's website at www.gothicdog.com
###