Schools Not Preparing Students to Earn a Living
Former recruiter says even colleges fall short.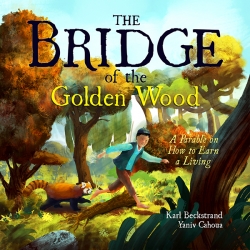 Midvale, UT, June 22, 2017 --(
PR.com
)-- Doing things for free may not sound like a great recipe for earning; but a new picture book by a former Silicon Valley recruiter shows how providing free service can build skills, ideas and a reputation — all of which can bring income.
"Some people graduate from high school or college and expect to be paid right out of the gate," said author Karl Beckstrand. "Most employers want experience," he said. "Observing problems and providing solutions — even without pay — can give job seekers the edge.
"The Bridge of the Golden Wood: A Parable on How to Earn a Living" (for ages 5 and up) came to Beckstrand after he had visited many schools, observing almost no curriculum on earning money.
Beckstrand's 18th book (number one in three Amazon categories) shows how a child with an eye for solving problems helps some hungry fish and finds a treasure. This illustrated folk tale comes with ideas for businesses, finding customers and managing finances.
"I hope it helps bridge the gap," Beckstrand said, "between what kids aren't being taught and what they need to know in order to make a living. Money shouldn't mystify."
Beckstrand, winner of a 2016 International Book Award, says that earners start young — with no expectation of reward. "Doing something for nothing not only helps you feel good," he said, "it gives you experience, a good reputation and, sometimes, money-making ideas."
"Many children and adults lack confidence that only comes through experience," said Beckstrand. "We get experience by finding and filling needs, solving problems."
While he wanted to be a rock star, Beckstrand's first job out of college was as a technical recruiter in Silicon Valley. "I got that job because I had worked some summers and semesters as a human resources assistant."
Some of the people Beckstrand recruited had great ability and egos, some had no ability and great egos and some knew what they didn't know," he said. "The latter group had the best chances because they wanted to learn how to bring value."
Beckstrand worked in high tech, sales and public policy before publishing his first book. "I did get to sing professionally," he said, "even if our band was basically a wedding band. The point is, by trying lots of things I learned what I like and developed skills that help in any industry."
"Maybe you don't get that Fortune 500 job," Beckstrand said, "maybe, while you're serving someone in need, you get an idea the turns into the next Uber or Amazon, only it's your company."
After a couple of books through publishers, Beckstrand now runs Premio Publishing in Midvale, Utah. They specialize in multicultural mysteries, biographies and language books for families. "They're not about race or ethnicity," said Beckstrand. "They simply happen to have characters of color." They have received awards and raves from national publications like School Library Journal, Kirkus Reviews, Horn Book's blog and ForeWord Reviews.
Even after getting a master's degree, Beckstrand noted that none of his courses taught earning or managing money. He says his most valuable education has come from running a business and living abroad. He has included tips he has learned in "The Bridge of the Golden Wood," written in dyslexic-friendly font and available in hard cover (pre-order), soft cover and ebook (free this month on Kindle) via major distributors and http://PremioBooks.com.
Beckstrand will contrast traditional with digital or self-publishing on Thursday, June 29 at 7 p.m. at the Kearns Library, 5350 S. 4220 West in Salt Lake City.
Contact
Premio Publishing & Gozo Books
Karl Beckstrand
801-953-3793
http://Gozobooks.com
Hysen Sisco
208-403-9634
info@premiobooks.com
http://KarlBeckstrand.com

Contact