Electra Meccanica Delivers First Solo Vehicle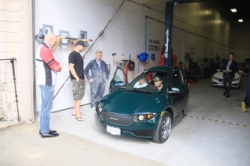 New Westminster, Canada, June 22, 2017 --(
PR.com
)-- Electra Meccanica Vehicles Corporation delivered the first 2017 SOLO all-electric vehicle to proud new owners Leona and Matthew Green of New Westminster, British Columbia. The Greens plan to use their innovative and unique new SOLO for both daily commuting and for their successful local restaurant and catering delivery business. They own the popular Greens and Beans Deli Cafe and ordered the SOLO in British Racing Green to match with their name and the business. Watch the video of the delivery at the following link:
https://vimeo.com/222425784
.
"We love our new SOLO," states Leona Green, Proprietor of Greens and Beans Cafe. "We park it in front of our business and you should see how much attention it gets."
"We are thrilled to be able to deliver our very first SOLO to a family right here in the Vancouver area," said Mark West, President of Electra Meccanica. "We think it fits perfectly with their local healthy food business as an attention-getting, environmentally-friendly vehicle with enough storage for all of their daily needs."
The SOLO, an innovative all-electric commuter vehicle, made its world debut at Vancouver's Luxury and Supercar Weekend in 2016 and is being produced at their Braid Factory in New Westminster, British Columbia. The SOLO's unique design is powered by a 16.1 kWhs lithium ion battery and the drive system is tuned for both speed and mobility. With a range of 160kms (100 miles), and a top speed of 130kms/h (80 mph), the SOLO delivers superior performance and spirited driving.
About Electra Meccanica Vehicles Corp.
Electra Meccanica strives to be the driving force behind sustainable transport by creating the compelling mass market, all-electric SOLO and the amazing new Tofino all-electric sport coupe. Both vehicles are tuned for the ultimate driving experience while making your commute more efficient, cost-effective and environmentally friendly. Electra Meccanica is currently offering dealer opportunities and accepting fully-refundable $250 deposits for the SOLO and $1,000 deposits on the Tofino which can both be made online at SmallEV.com.
More information on ownership or becoming an Electra Meccanica retailer can be found at http://electrameccanica.com. Interact with ElectraMeccanica at Facebook/EMVSolo, @ElectraMecc, InstaGram/ElectraMeccanica and view videos at http://bit.ly/2bigEaF.
Media Contact Information
Jeff Holland
Head of Media Relations
Tel. 562-640-1758
Email: JeffHolland@electrameccanica.com
Safe Harbour Statement
Except for the statements of historical fact contained herein, the information presented in this news release constitutes "forward-looking statements" as such term is used in applicable United States and Canadian laws. These statements relate to analyses and other information that are based on forecasts of future results, estimates of amounts not yet determinable and assumptions of management. Any other statements that express or involve discussions with respect to predictions, expectations, beliefs, plans, projections, objectives, assumptions or future events or performance (often, but not always, using words or phrases such as "expects" or "does not expect", "is expected", "anticipates" or "does not anticipate", "plans, "estimates" or "intends", or stating that certain actions, events or results "may", "could", "would", "might" or "will" be taken, occur or be achieved) are not statements of historical fact and should be viewed as "forward-looking statements". Such forward looking statements involve known and unknown risks, uncertainties and other factors which may cause the actual results, performance or achievements of the Company to be materially different from any future results, performance or achievements expressed or implied by such forward-looking statements. Such risks and other factors include, among others, the actual results of activities, variations in the underlying assumptions associated with the estimation of activities, the availability of capital to fund programs and the resulting dilution caused by the raising of capital through the sale of shares, accidents, labor disputes and other risks. Although the Company has attempted to identify important factors that could cause actual actions, events or results to differ materially from those described in forward-looking statements, there may be other factors that cause actions, events or results not to be as anticipated, estimated or intended. There can be no assurance that such statements will prove to be accurate as actual results and future events could differ materially from those anticipated in such statements. Accordingly, readers should not place undue reliance on forward-looking statements contained in this news release and in any document referred to in this news release. The Company assumes no obligation to update or supplement any forward-looking statements whether as a result of new information, future events or otherwise. This news release shall not constitute an offer to sell or the solicitation of an offer to buy securities.
Contact
Electra Meccanica Vehicles Corporation
Jeff Holland
562-640-1758
http://electrameccanica.com

Contact