Phanes Develops an Uber Integration for WooCommerce & Prestashop Platforms
Phanes 3DP is the company behind the STL calculator for the 3D print business. Today, Phanes is announcing the release of a UberRush Integration for WooCommerce and Prestahop Platforms, their first non 3D product for e-Commerce.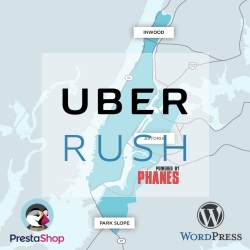 Albuquerque, NM, July 10, 2017 --(
PR.com
)-- Phanes is a e-commerce development division of Abacab Ltd. Their flagship product Phanes 3DP is a 3D Printing E-Commerce Platform that allows 3D Printer Shops to offer instant quotes and checkout options, allowing shop owners to fulfill 3D printing orders seamlessly. Today, Phanes release their first non-3D printing platform with UberRush by Phanes, a shipping tool that allows online sellers with WooCommerce and Prestashop platforms to offer same day delivery service in their local area. In a very competitive e-commerce market, big e-commerce stores offering same day delivery services for their customers have the edge. Using tools like Uber Rush small online shops can remain competitive.
"Phanes is known for their 3D Printing E-Commerce Platform Phanes 3DP. This leap outside the 3D Printing Industry will hopefully get us some mainstream e-commerce sellers. This is our first step into becoming a major contributor to the E-commerce industry," said Jon Acosto Managing Member of Abacab Ltd.
Uber Rush is available at Shopify and BigCommerce platforms, but there was no platform existing for WooCommerce and Prestashop, until now. Sellers can purchase a two year license for $199.95. Now online sellers in New York City, San Francisco, and Chicago can deliver electronics, medicine, and any other product to their local sellers the exact same day.
The shipping tool Phanes developed integrates with UberRush, therefore sellers must sign up as a UberRush vendor and set up an API app in order to integrate with their e-commerce platform. Sellers & Buyers can view delivery status through their Order Dashboard. This product is great for the impatient customer and the sellers who want to be more competitive in an already competitive market.
Uber are planning to expand UberRush to other markets soon. Phane's new shipping platform will be ready for that day.
For more information go to: phanes.co
Contact
Abacab Ltd.
Jon Acosto
617-433-8163
www.phanes.co

Contact