PanLbilt Steel & Foam Cement Patented Green Tech Building Material Kits
Assembly in less than 5 days. Rated to Richter 9 and Winds up to 140MPH.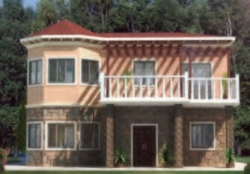 Mundelein, IL, June 26, 2017 --(
PR.com
)-- PanLbilt is pleased to announce the offering of one, two and three-story residential houses that are produced from 100% Green Technology that is "Better, Cheaper, Faster."
Over the past six decades, there have been many attempts to develop industrialized approaches to build housing. Why have they failed? One is logistics: they require special vehicles for delivery from factory to site. Two is assembly: they require mechanized technologies (and skilled operators) to move and put the product into place. Three is user friendliness: the end-products have limited flexibility and adaptability. Four is market preferences: segments that don't mind a mass-produced and utilitarian look are limited. And five is that these approaches were never scalable. PanLbilt is totally scalable.
The PanLbilt approach is fundamentally different. The output product is one sub-product, a patented structural insulated panel (SIP) multiplied many times that developers and builders can use to deliver their final product. Because the PanLbilt innovation replaces six sub-products, it can be assembled on-site so rapidly that a typical dwelling can be completely enclosed in one day. There's no need to build the dwelling(s) in a factory. But the PanLbilt SIP is not only faster and cheaper, it results in significantly better dwellings that are more flexible (interior walls can be opened and moved) and more adaptable (changes can take place on-site).
Competitive Advantages
*The PanLbilt building kits include exterior/interior walls, roof, doors and windows.
*Reduces on-site labor and accelerates owner occupancy.
*Ideal for Veterans.
*Floor plans can be adjusted to comply with ADA requirements.
· * Withstands heavy rain
· *Net Zero Energy Efficient
· * Fire Proof: A1 Level Thermal Conductivity: 0.1035 W/m.K (90mm thick wall has the same thermal conductivity as 350mm brick wall)
· *Thermal Resistance: 0.869 m2·K/W
· * Snow Resistance: Snow pressure 8.219 KN/m2
· * Earthquake Resistance: Up to Richter 9
· * Sound Insulation: 40 dB
· * Wind Load: Wind speed up to 140 MPH
· * Wall Shock Resistance: 500 KG concentrated force
· * Built-in Electrical Wire & Water Conduits
* Smart grid, smart house technology capable
*Rapidly rebuild after natural disasters
Contact their Marketing Department at 224-425-9236 or email allano@PanLbilt.com for technical and pricing information
Contact
PanLbilt
Allan M. Olbur
224-425-9236
www.PanLbilt.com

Contact
Multimedia
3 Bedroom/3 Bath 1 Car Garage or optional Family Room 156.82m2 or 1,688 SF
4 Bedroom/2 Bath/1 Car Garage or Optional Family Room 189.2 m2 or 2,036.5 SF