Artist Alexey Steele Brings Inspiring Message, Celebrates Unsung Hero of Urban Neighborhood Through Public Art
New Life-Size Painting of 75-Year-Old Gardener Unveiled at New Gallery in Impoverished Scottsdale Section of Carson.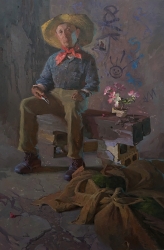 City of Carson, CA, June 26, 2017 --(
PR.com
)-- Noted Southern California artist Alexey Steele will unveil two new works from his My Neighbors series today at the newly founded Artward! Gallery in the Scottsdale Townhouses Association building here, at 23400 Avalon Blvd.
Steele launched the series, My Neighbors: Capturing the Soul of America's Diverse City, in 2016 as part of his Love My Neighbor public art project to inspire social change by putting a spotlight on ordinary community members who he believes represent the strength and backbone of Carson. The latest of eight portraits in the series is the life-size oil of a beloved 75-year-old gardener from Scottsdale, who Steele painted in live sessions open to the public at the Townhouses over the last four months.
The artist, who has worked out of a studio in the heart of Carson for the past 11 years, was awarded a grant by The City of Carson Cultural Arts Commission for 2015-16 and another for 2016-17 to develop My Neighbors. An additional grant came from Wells Fargo Bank.
"The City of Carson is currently preparing to celebrate the 50th anniversary of our founding with substantial forward-looking urban development," said Carson Mayor Albert Robles. "Alexey Steele's Love My Neighbor public art program highlights the city's civic pride and showcases Carson's diversity as we pursue our City motto of 'Future Unlimited.'"
Steele says he targeted Scottsdale because of his belief in the transformative power of art.
"Art can lift aspirations and give us all an important common ground in today's divisive times," Steele said. "What I wanted to capture through My Neighbors was the unique, iconic and deeply human qualities that make ordinary people the true bedrock of our communities and who give us something meaningful, true and solid to hold onto in times of trouble, which is especially important in forgotten neighborhoods like Scottsdale."
Built in 1963 as a 600-unit gated condominium project, Scottsdale Townhouses gained notoriety in the 1970s and 80s as home to the Piru gang and as a hub of inter-gang violence, high crime and poverty. The situation has improved gradually, but even today, more than 25% of Scottsdale's 3,000 residents live below the poverty line.
Steele believes strengthening community bonds by getting to know and love one's neighbors is an answer to many of the difficult issues facing society today. The artist hopes that My Neighbors will encourage visitors to see their own neighbors from a new perspective and take the message of love for one's neighbor back to their own streets.
"I want to capture people in these painting who you cannot help but love," Steele said. "Through the Love My Neighbor public art project, I want to encourage other people to notice and embrace human beacons in their own neighborhoods. These are the overlooked heroes of our society."
In his latest collaboration with the City of Carson, Steele focused his attention on the notorious neighborhood ironically called "Scottsdale." Following his concept that special neighbors exist in every condition, Steele found a remarkable and inspiring character in Cirilo Campos, a beloved 75 year old gardener who has been working in Scottsdale for 31 years and is considered a local hero because of his dedication and refusal to quit. Steele used the process of making art as a community engagement tool and executed his large canvas he titled "El Rey Trabajador" entirely on-site in a series of more than 40 live sessions, each open to the public.
To showcase works of My Neighbors to the local community and use the
Love My Neighbor
project as a tool of continuous community building, Steele established a permanent on-site Artward! Gallery.
With this body of work, Steele is following in the footsteps of his late father, the noted Ukrainian artist Leonid Steele. A hallmark of Leonid Steele's oeuvre was to travel to remote villages of the Ukraine and capture the expression of ordinary people in paint and to present the finished works to the very muses themselves. The younger Steele's homage to his father's work intends to build upon the legacy of shared strength, as a counterpoint to troublesome events.
Steele's art is traditionally shown in galleries and museums, but this time the artist is presenting his new works in settings that he shares with his fellow community members to ensure the widest engagement of local residents in this city public art program. Alexey Steele is represented by American Legacy Fine Arts, a private art gallery in Pasadena, Calif.
Wells Fargo has a long history of supporting diversity and inclusion, and the company's Vision and Values states "The spirit of diversity and inclusion lives in our hearts and minds and most importantly in our behaviors – the way we interact with each other and conduct our business." Additionally, Wells Fargo was ranked #12 on Diversity Inc.'s "Top 50 Companies for Diversity" list for 2016.
*Digital images of artwork in the exhibition are available upon request.*
Images of the project available with this link:
https://www.dropbox.com/sh/89nmz5hn7zoapmp/AABTPedJ7OwwBOFJao0LzdR7a?dl=0
About The City of Carson, CA
Carson is a city in Los Angeles County, California. As of the 2010 census, Carson had a population of 91,714. Located 13 miles (21 km) south of downtown Los Angeles and approximately 14 miles away from the Los Angeles International Airport. Incorporated on February 20, 1968, Carson is the youngest municipality in the South Bay region of Metropolitan Los Angeles and preparing to celebrate its 50th anniversary. The City of Carson is a 2015 winner of All-America City Award and consistently ranked as one of the most diverse cities in the US.
About "Scottsdale" Neighborhood of Carson, CA
Scottsdale Townhouses in Carson, CA is a particularly volatile underserved neighborhood in the City of Carson. Built in 1963 as a 600 unit gated community condominium project it gain notoriety through 1970s and 80s as a home for Scottsdale Piru gang, inter-gang violence, high crime rate and poverty, representing the plight of the inner city within Los Angeles County. In recent years the situation is incrementally but steadily improving. It has around 3,000 residents. 26.5% are residents below the poverty level. Median household income $41,442.
About Artward! Gallery and Artward Intiative
Artward! Gallery is founded by the artist Alexey Steele and operated by Artward Initiative 501c3 non-profit. The gallery is dedicated to showcasing his Love My Neighbor public art project in the City of Carson and organized in the open to the public Scottsdale Townhouses HOA building. Its near-horizon objective is through repeated art live-sessions by Alexey Steele, ongoing showcase of the works of My Neighbors Series and periodic special art events to engage and bring meaningful community-building impact to a "Scottsdale" neighborhood of Carson, serve as a model of how art can be used as effective tool of social action in the similarly difficult urban scenarios across the US. Artward Initiative is a 501c(3) non-profit organization formed to strengthen Southern California local communities through its charitable cultural activities. Artward Initiative sponsored events and projects are centered around community development and revitalization, enhance community's quality of life through art, cultural and educational projects.
Contact
Artward Initiative
Olga Vlasova
310-710-7845
www.alexeysteele.com
http://lovemyneighbor.us/
http://alexeysteele.blogspot.com/

Contact
Multimedia
Noted S. Calif. artist Alexey Steele will display two new works from his My Neighbors series that presents a passionate and compelling portrayal of representative residents from the City of Carson, at the newly founded Artward Gallery dedicated to his ongoing Love My Neighbor public art project.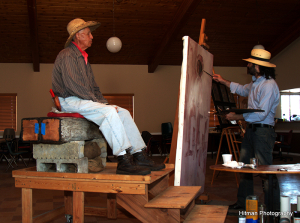 The large canvas was painted entirely on-site in the series of over 40 live sessions each open to the public.