Lamplugh Talks Firefighter Health & Wellness: Radio Show Goes to the "Frontline"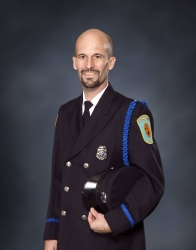 Eatontown, NJ, June 30, 2017 --(
PR.com
)-- For years Mark Lamplugh has been the "voice" for the treatment of responders when dealing with critical stress, PTSD, and addiction issues. Now, that voice can be heard on one of the first online radio shows dedicated to the health and wellness of firefighters and emergency services personnel.
In this new role as radio host, Lamplugh will add his expertise in not only addiction recovery but as a renowned specialist and author on the subject of first responder critical stress and PTSD issues.
Lamplugh is a fourth generation firefighter and former captain with the Lower Chichester (PA) Fire Company. Lamplugh is also nationally recognized in Crisis Stress Intervention through the American Academy of Experts in Traumatic Stress. Lamplugh has been instrumental in creating new programs for first responders across the country as they deal with the stress and depression that often comes with their occupations.
"There will be no real rigid format," said Lamplugh as he described the new opportunity. "I envision a radio show that is easy to listen to and brings the subject matter to the forefront with guests that have struggled with these issues themselves and learned to be overcomers."
Lamplugh explained that seeing struggles throughout his career drove him to this new venue. "No matter what programs are developed, no matter what treatment center I meet firefighters in, the real success stories have all been born in personal conversations with firefighters looking for someone to listen, to share and to point them in the right direction. This is what I see happening with this new show; it's a conversation I have wanted to have with thousands of my brothers and sisters across the country, and now I can have it."
The show, which airs on July 5th, July 26th, Aug 23rd and Aug 30th, can be found on Fire Engineering BlogTalk Radio located at (
http://www.blogtalkradio.com/fireengineeringtalkradio
). For almost 140 years, Fire Engineering magazine has provided training, education, and management information for fire and emergency services personnel worldwide. In print and online, articles are normally written by experts in the fire service and focus on lessons-learned.
"The world is online, so this was the next step for me," claims Lamplugh. "I am excited about the potential of having such a large audience that I might never have before been able to reach."
Lamplugh, who works as the Vice President or Responder Services of a new responder treatment program called Frontline Responder Services (
http://www.frontlinerehab.com
) created by Advanced Health & Education (
http://www.advhealth.com
) and Cedar Point Recovery (
http://www.cedarpointrecovery.com
) who recently introduced the new responder addiction program at their facility in Eatontown, New Jersey and Sacramento, California. The group owns and operates drug and alcohol rehab centers as well as medical detox facilities across the United States.
The program, named "Frontline" is designed to quickly attend to the mental health and well-being of response community members following critical incidents or unexpected traumatic events such as the recent attack on the Orlando nightclub or the violence seen in cities like Chicago, Boston, Dallas, and Baltimore. Frontline is also designed to address the long-term effects of critical stress on responders from the daily stress and pressure of the job; the same focus Lamplugh hopes to bring to his show.
"I am not a professional radio show host," remarked the treatment expert. "This is going to be a show that meets responders where they live, how they live and touches on the subjects we all need to be talking about. This show is going to save lives and restore families, and I look forward to a long relationship with Fire Engineering." Fire Engineering has no affiliation and doesn't personally endorse the Frontline Program at Advanced Health & Education.
Contact
Sprout Health Group
Mark Lamplugh
561-762-9729
www.sprouthealthgroup.com

Contact