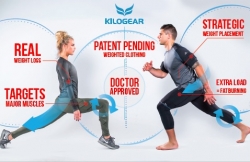 Chicago, IL, July 01, 2017 --(
PR.com
)-- "Irish Dancers are athletes and like most athletes, typically spend hours working on one body part. Irish dancers are so focused on perfecting their material and all of the technical aspects associated with it that they often neglect their upper body and core. KiloGear CUT solves that problem," says Stringer. Chloey Turner remarked, "I'm known as a dancer, but I am an athlete first. All dancers are. It takes an incredible amount of athleticism to pull off Irish Dancing. What do dancers want? They want to be stronger, faster, more agile. KiloGear CUT will help them do that without them even knowing it."
Attendees at this year's North American Nationals will be able to try on the gear and place pre-orders. Dancing teachers and studio owners are encouraged to visit the booth to sample the garment and learn how KiloGear CUT can be added to the training practice for their dance students as well as place their studio orders. Gear will include weighted tights and tops for girls and weighted shorts and short sleeve tops for boys. Please visit them at the Hilton New Orleans Riverside Vendor Village 2nd Floor - Churchill Room.
"We are thrilled to add KiloGear CUT to the KiloGear family. Chloey Turner and Kincaid Stringer have elite backgrounds in fitness and Irish dance. Combining the Riverdance and KiloGear's patented high performance gear, KiloGear CUT will help change the game in dance and fitness." - Trent Brown, Founder & CEO
"We all have an athlete inside of us. KiloGear makes it easier to be the best version of yourself. A change of clothes can change your life!" - Megan Brown, Founder & COO.
About KiloGear, Inc.
KiloGear, Inc is a high performance technical weighted gear company based in Chicago, IL. Founded in 2015, KiloGear's patent pending designs allow wearers to turn daily activities into calorie burning and body toning events. KiloGear developed the world's first wearable workout and has specialized in weighted apparel for men/women. For more information, visit: www.KiloGearCut.com or join the community at www.instagram.com/KiloGearCUT or www.facebook.com/KiloGearCUT.
Founded by Trent and Megan Brown, KiloGear was established after years of watching Megan Brown, a former Division 1 Academic All American, create her own weighted gear to wear around the city of Chicago. Megan, a successful business woman and coach in Chicago, struggled with finding the time to fit fitness in her life. She and her husband Trent Brown, a former Army Captain, knew the science behind adding load to the body to everyday activities or workouts. They created KiloGear and worked with professional athletes and doctors to create a line of clothing that cosmetically conceals and secures a patent pending weight system to the body, so that it is fashionable and functional. The weight system is distributed evenly and strategically over the body, reducing stress on the joints and causing zero bio-mechanical changes to the body. KiloGear causes the body to work harder, so that it builds muscles and burns fat.