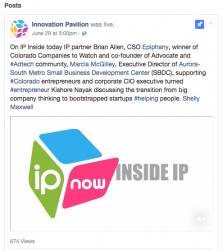 Denver, CO, July 06, 2017 --(
PR.com
)--
Epiphany Ai
has launched their new self-service publishing and advertising platform, designed to make life easier for both publishers and advertisers, by providing a unified, end-to-end solution for both the supply and demand side. "The platform is focused on helping publishers in the mobile, desktop, and OTT markets increase revenue and yield, while providing easy to use tools for advertisers to deliver effective cross-channel campaigns at scale. Video is at the core of the offerings, with support for display as well," said Joseph Salvador, Epiphany Ai's Founder and CEO.
Epiphany Ai is dramatically improving the ease of use, quality, and transparency of cross-screen digital video products for content producers, publishers, advertisers, and broadcasters. Features include both a Supply-Side-Platform (SSP) and Demand-Side-Platform (DSP) as well as a full video CMS, live streaming tools, stream to VOD tools, and more analytics than you can handle. The company has a wait-list for RTB integrations from both SSPs and DSPs eager to utilize the solution," said Joseph.
As a key benefit, platform partners will be able to participate in rapidly growing live streaming market. "Live streamers and influencers represent an emerging market and unique supply that isn't yet in the programmatic eco-system, and with the Epiphany platform, we're able to match live streamers and advertisers together like never before, providing real monetization models that work," said Brian Allen, Epiphany Ai's Chief Strategy Officer.
"As the advertising and marketing industries continue to collide and consolidate, a need has been created for an end-to-end platform for content creators, publishers, advertisers, and broadcasters," said Brian. "Through our new self-serve platform, we provide all the tools necessary to run your publishing or advertising business in one easy to use, mobile-first interface. You can literally run your entire business from your phone."
About Epiphany Ai
Epiphany Ai builds technologies that make digital publishing and advertising better. Through its unique and proprietary platform, they are able to improve yield for publishers while providing quality scale to advertisers in one, easy-to-use mobile-first interface. With partners across the globe, Epiphany works with the industries best and brightest on a mission to bring real value to our partners. The company is head quartered in Denver, Colorado and has been recognized as one of the state's most innovative companies and was the recipient of the 2017 Top 50 Colorado Companies to Watch award.