Bipartisan Tribute to Veterans and Those Serving in Congress Was Smashing Success
Annual event features inspiring speakers -- and a song dedicated to U.S. Rep. Steve Scalise by world-renowned tenor Anthony Kearns.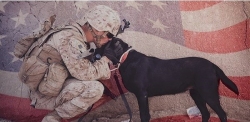 Washington, DC, July 24, 2017 --(
PR.com
)-- On June 27, 2017, the Sixth Annual Bipartisan Tribute to Veterans and Those Who Serve honored military veterans and those who serve in the U.S. Congress at a summer kick-off reception with a powerful line-up of speakers and inspiring songs by renowned tenor Anthony Kearns.
The purpose of the event, in addition to calling attention to veterans' causes -- was to recognize those who have continued their service to country in elected office. U.S. Secretary of Veterans Affairs David Shulkin was among the distinguished guests to attend. His presence underscored his commitment to working with Congress to reform the Veterans Administration.
A long list of veterans in Congress were represented by U.S. Representatives Mike Coffman (CO) and Steve Russell (OK) at the podium. Coffman, a Marine combat veteran is the only member of the U.S. Congress who served in both Gulf Wars and is the only veteran in the Colorado delegation. Russell was an Army Ranger and was part of the team that captured Saddam Hussein. Both are among the large group of Hill veterans with post 9/11 military service.
"I appreciated the opportunity to be a part of this important annual tribute. Those who serve our nation in defense of freedom must never be forgotten when they return home," said Coffman, a Marine combat veteran, and distinguished member of the House Armed Services Committee.
Russell, who commanded the Army's 1st Battalion, 22nd Infantry in Iraq, and retired as a lieutenant colonel, said: "It is important to remember the legacy of those who serve our great nation in battle, and to have their perspective as lawmakers shape policy. Often, veterans are more hesitant to get involved in conflict because they understand the costs of war."
Dignitaries included former Virginia Governor James Gilmore, New Zealand Ambassador Tim Groser, Irish Deputy Chief of Mission Michael Lonergan, Washington Examiner columnist Tom Rogan, and many other high-ranking officials from government, military, media, and the business sectors.
The evening began with a presentation of the flag by the Joint Armed Forces Color Guard, the National Anthem sung by Mr. Kearns, an invocation by Father Patrick Conroy, the Chaplain of the House of Representatives, and the Pledge of Allegiance led by Fame Academia and Will Hubbard. Mr. Hubbard is Vice President of Student Veterans of America, the largest student organization in the country.
The evening also featured Private First-Class Fame Academia and retired Marine Corporal Jeff DeYoung with his war-dog, Cena.
Ms. Jennifer Griffin, Fox News' National Security Correspondent and the evening's emcee, told the extraordinary story of Mr. Academia during the Japanese occupation of the Philippines during World War II. As a boy, his family helped downed U.S. pilots elude capture, at least one making it to safety. He joined the U.S. Merchant Marine and then the U.S. Navy in time for the Korean War. His Navy career saw his eventual appointment to the office of the Chairman of the Joint Chiefs of Staff Admiral Thomas Hinman Moorer.
Former Congressman and Chairman of the House Appropriations Committee Bob Livingston gave an inspirational introduction of former Corporal DeYoung, who told the story of his valiant and devoted dog, Cena, and his difficulties in re-uniting with him after they left the Marine Corps. Without the help of the humane organization American Humane, Cena, who saved Jeff's life in Afghanistan, might never have seen Corporal Young again.
American Humane, the country's first national humane organization, has been supporting the U.S. military, veterans and military animals since 1916 when the U.S. Secretary of War asked them to go overseas and rescue more than 68,000 wounded horses each month on the battlefields of World War I. Following World War II, American Humane helped pioneer the use of animal therapy to aid veterans returning to civilian life, aided children of military families, and has been bringing back retired war dogs, reuniting them with their handlers, and providing them with free specialized healthcare. Their newest "Shelter to Service" program rescues abandoned animals in the nation's shelters and trains them to become lifesaving service dogs for veterans with Post-Traumatic Stress and Traumatic Brain Injury.
The program included several patriotic and classic songs sung by world-renowned tenor, Anthony Kearns, fresh from starring in Donizetti's opera, L'Elisir d'amore, in Ireland's prestigious Lismore Opera Festival. His program featured well-known favorites such as "Somewhere over the Rainbow," concluding with "God Bless America." Of note, Mr. Kearns dedicated "Shelter Me," a song he sang at the Pre-Mass Concert for Pope Francis I, to House Majority Whip Steve Scalise, R-LA, and his recovery.
Mr. Kearns also dedicated a song from "Camelot" – the well-known musical about the King Arthur legend – to the memory of the late President John F. Kennedy, whose 100th birthday is being commemorated this year. Kearns headlined a sensational concert at the John F. Kennedy Center for the Performing Arts last year, and sang at the gravesite of the late President at Arlington Cemetery in 2013. Kearns, accompanied by Jon Laird, said he was honored to return to the nation's capital to perform for such a distinguished audience.
The bipartisan reception and tribute was co-hosted by The Congressional Institute, The Washington Examiner, National Defense Foundation, Emergent, American Humane, the Veterans Campaign, and others. It was organized by Kirsten Fedewa & Associates, L.L.C., with hospitality by Beam Suntory, Beer Institute, and Wine Institute. Distillery diplomat John Vickers-Smith held a Maker's Mark bourbon tasting for the several hundred guests.
Ms. Fedewa commented, "We have held this event annually since 2012 to help all Americans remember the sacrifices our veterans have made to protect our country as well as our strong national commitment to those who suffer from war traumas. This event honors those who have served our country not only once, but twice -in uniform and public service. We are grateful to receive so much support."
Contact
Fedewa Consulting
Kirsten Fedewa
202-365-6936
fedewaconsulting.com
inquiry@fedewaconsulting.com

Contact
Multimedia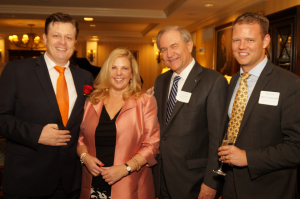 From left to right, tenor Anthony Kearns, publicist Kirsten Fedewa, former Governor Jim Glmore, and Will Hubbard, Student Veterans of America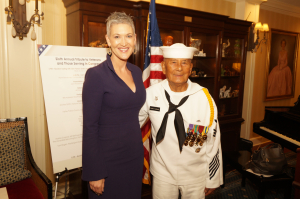 Ms. Griffin was the Emcee Featured here with special guest, Fame Academia.