Culturefest Prepares to Rock the Mountain for 14th Year
The 14th annual Culturefest World Music and Arts Festival will take over the Appalachian South Folklife Center in Pipestem, WV September 7-10 with a weekend long immersion in the creative arts.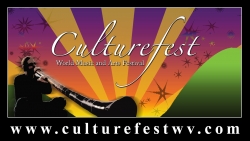 Princeton, WV, July 25, 2017 --(
PR.com
)-- What: Culturefest World Music & Arts Festival
When: September 7-10
Where: Appalachian South Folklife Center - Pipestem, WV
Tickets: $50 full weekend pass including camping / Day Passes (does not include camping) $15- Thurs., $20- Fri., $25-Sat., $15-Sun. / Sharp discount rates for kids - check website for pricing. Kids 5 & under are free.
Purchase online at culturefestwv.com or at the gate.
Info: www.culturefestwv.com / 304-320-8833
The 14th annual Culturefest World Music and Arts Festival will take over Appalachian South Folklife Center in Pipestem, WV September 7-10 with a weekend long immersion in the creative arts. This unique event is a cornerstone of the dynamic creative community in Southern West Virginia. It features three stages of music and dance performances by artists from all around the east coast ranging from Americana and Appalachian Folk to Soul-Rock, Funk and World Fusion to experimental genres like Quantum Dub, plus performance art, fire dance and more. In addition to performances, the festival offers workshops in yoga, drumming, hoop dancing, up-cycled art and more, plus facilitated discussions called "Conversations at Culturefest" on topics such as Appalachian art, cultural exploration, forrest farming and healing botanicals. Astronomer Dave Buhrman of WV Sky Tours will be on hand with his telescopes for star and planet gazing and fire spinners will light up the night.
Artisans will vend their wares from handmade clothing to jewelry to fine art and much more. The children's village will feature special yoga classes, found object art, a kids' costume parade and other activities. Inflatable furniture lounges make relaxing spots to kick back and relax, and provide shelter so the fun can continue in case of rain. Guests may camp on site for the weekend, and immerse themselves in the colorful experience in the beautiful WV mountains, or they may enjoy the amenities of nearby Pipestem State Park. The goal of the festival is to promote unity and respect for diversity, and bring people together though music and the arts in a beautiful mountain setting.
Organizers say they take great care in curating the performance lineup, searching for musicians who have passion and purpose, unique styles and seasoned skills. This year's performance lineup is, always, stacked with amazing talent.
- Africa Unplugged is a dynamic group, led by djembe master, guitarist and songwriter, Atiba Rorie. The band uses traditional percussion instruments from West Africa in combination with guitars and bass to play traditional rhythms while drawing from influences across the world. Their creativity results in a funky, soulful blues and dance music that keeps the audience moving as they tell stories from the old world and the new.
- Morgantown, WV based Fletcher's Grove is known for their high-energy shows, mixing a fierce rhythmic foundation, dual guitar solos, and an Appalachian tinged mix of genres that makes standing still nearly impossible. By focusing on musical intricacy and creating seamless improvisation, Fletcher's Grove has captured the imaginations of thousands in the Mountain State and beyond.
- The music of Gypsy-At-Heart weaves a fusion of eclectic musical genres from East Indian Ragas and Middle Eastern scales, to Latin, European Classical and American Folk. Original compositions take audiences on a musical journey; blending movements that are spacial, and beautiful; flowing into compositions that are breathtaking in intricacy and speed. As "Gypsy At Heart" musicians reveal progressive, uniquely original soundscapes and arrangements, their original melodies are flavored with a familiarity that touch on timeless music... World Music... indeed Global Music! While most pieces are instrumental, lyrical songs make known deeply thought provoking, inspirational poetry.
- LeAnna Eden and the Garden Of is led by a singer-songwriter originally from Milwaukee, WI. Now based in NC, her music is an eclectic mix of genres ranging from neo-soul to alternative rock. A self taught guitarist she has been growing her brand. Over the past ten years she has played the Midwest, the Rust Belt and is slowly making her way up and down the East Coast. Some musical highlights have been playing the Cactus Club, Milwaukee Pride 2012-13; Black Dot Music Fest in Chicago; Rivers of Honey in NYC; Charlotte Pride 2015 and opening for the Emmy Nominated singer/songwriter Emily King at The Visulite Theatre. Her newly formed band: The Garden Of is made up by James Jeffrey on drums and Zach Willard on lead guitar.
- Option 22 is an eclectic Americana ensemble featuring the original music of the organizers of Culturefest, Lori McKinney and Robert Blankenship, along with dynamically talented artists James Hart, Kayla McKinney and Ary'an Graham. Together, they make up the creative arts collective that is transforming downtown Princeton, WV into a vibrant neighborhood with their music, art and positive energy. Their music is infectious and flavorful, featuring powerful, yet blissfully soothing female vocals atop a steady, dance inducing groove. Positive lyrics inspire unity and call for change. Dancing inevitably erupts.
Other WV acts include The Change (Funk/Rock), Spurgie Hankins (Soulful Rock), The Kind Thieves (Appalachian JamGrass), The Ball & Chain (Blues/Funk), Whiskey Victor (Indie Folk), The Parachute Brigade (Folk/Americana), Adam Cox (Folk), The Magnum Opus (Rock), Jermaine Jay Lane (poetry), Crystal Good & Tuesday Taylor (poetry), Kathleen Coffee (Folk), The Gin Mills (Rock/Blues), Liberty High, Tim & Maggie (Folk), The One Voice Project (Rock, Pop), and Ashley Adair Surface (Conetemporary Christian/Gospel/Pop/Country). Other out-of state acts include Soul Prospect (Alternative/Rock/Soul), All The Best Kids (Alternative HipHop), Spaceship Earth (QuantumDub), Lucas TheFlow (Liquid Electronic Music) and Ignes Proles (Fire Dance).
Attendees will also have the chance to participate in music making during facilitated drum circles. Late night jams by the fire pit are a popular feature, and guests will encounter opportunities to connect with the performers and workshop providers in a laid back atmosphere throughout the site. A popular Culturefest tradition is the community art boards, which will be available throughout the weekend stocked with paint and brushes, and anyone is welcome to leave their mark. These spontaneous, collaborative works of art are a vibrant centerpiece of the festivities. A variety of delicious food and drink will be available for purchase including but not limited to BBQ, homestyle Mexican, sandwiches, vegetarian options, coffee and ice cream.
Tickets are available online at
culturefestwv.com
and at the gate; advance tickets are recommended. A full weekend pass costs $50 online and includes all four days' activities plus camping. Day passes do not include camping. They are $15 on Thursday, $20 on Friday, $25 on Saturday and $15 on Sunday. Children's tickets are sharply discounted; see the website for those prices. Kids 5 & under are free.
The event is presented by LLyniuM entertainment and The RiffRaff Arts Collective with assistance from these sponsors: Free2Luv, Princeton Health Care Center, Princeton Community Hospital, Seaver Funeral Home, Star-95, WVVA, Ramey Princeton, Adventure Radio, Little Buddy Radio, Ledger Productions and a host of advertisers.
Media: Call Lori McKinney to arrange advance interviews with any of our acts, acquire web links and to receive print-quality photos for publication. We welcome your reporters and camera people on site. Videographers are welcome Friday after 5pm and all day Saturday and Sunday.
Contact
RiffRaff Arts Collective
Lori McKinney
304-320-8833
www.culturefestwv.com

Contact