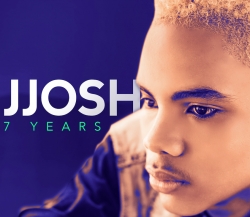 Tampa, FL, July 26, 2017 --(
PR.com
)-- JJosh, an aspiring R&B teen artist, will finally get his wish, which si from the age of seven he dreamed to audition for American Idol. The official casting company to this season's upcoming show called his production company and connected with JJosh extending the invitation to audition directly for the Executive Producers of American Idol 2017 in Orlando, Florida on August 17, 2017.
Releasing his first single titled, "7 Years," just weeks before his 15th birthday earlier this summer, he wanted to record his own rendition of the original song by Grammy® Nominated singer-songwriter, Lukas Graham's, hit single. JJosh's version of the song was arranged and produced by Grammy® Award winning pianist, Lannie Battistini under the Hands in Motion Music label.
"I am a fan of Lukas Graham and related to this song from the first time I heard it. That's why I chose this song as my first single. I just added that touch of R&B which is in my soul," says JJosh.
JJosh, born in Okinawa, Japan, go his musical prowess started growing as early as 3, when his mom recalls him singing in his sleep and later on recalls him remixing musical arrangements vocally in the shower. During his first public performance his mother recalls how he "wowed the audience" with his rendition of Boogie Wonderland, sustaining the high pitch notes. Since 2012, he's been an active member of Revealing Truth Ministries Voices of Legacy Choir and has had the privilege to lead the choir for special concerts, performances, and mission trips.
At 12 years old, JJosh competed at Ybor's Got Talent (a local Singing Contest in Tampa Bay area) which got the attention of producer Lannie Battistini, who was a judge on the panel. He was moved by the energy JJosh put into his performance and singing. "This kid is gonna be a hit one day," said Lannie recalling his first thoughts.
JJosh is considered by those that listen to him to be an old soul with a young charm. He is inspired heavily by old school and vintage styles, including Elvis, Dean Martin, and Frank Sinatra. His R&B inspirations are drawn from artists such as Kanye West and Drake, as well as being open to all kinds of inspiration, reworking it into his own sound and voice comfortably. "This has always been my dream," says JJosh. "If I keep my passion with the support of my family and friends, I know I can do this."
JJosh's single, 7 years, can be found at all music stores online. To Listen now follow him at FanBurst and Soundcloud. For more information on this young artist, visit his site at
jjoshmusic.com
or follow him on Twitter@RnBJJosh.