AD1 Global Purchases Strategic 10-Acre Palm Bay Parcel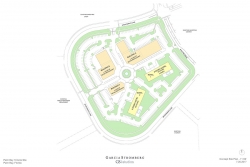 Hollywood, FL, July 26, 2017 --(
PR.com
)-- AD1 Global announced today that it has purchased an approximately 10-acre tract of land in the heart of Palm Bay, Florida, for hotel and commercial development.
The project envisages two hotels and several retail shops and restaurants adjacent to the current Space Coast Harley-Davidson Dealership and Bass Pro shop located on Sportsman's Lane off I-95, via exit 176.
One planned hotel is a 90 room Home2 Suites by Hilton and the other a 100 room yet-to-be-named nationally known brand.
"These are both select service hotels that will offer contemporary accommodations and modern design," said AD1 CEO Daniel Berman.
Palm Bay is perfectly situated near Florida's strategic central east coast, midway between Jacksonville and Miami. The city is also close to the Melbourne and Orlando International Airports, Kennedy Space Center and Port Canaveral, which puts it at the cross-roads for business and leisure travel.
"We feel that this area in Florida has great investment potential and we foresee considerable growth for the Space Coast in support of the tourism, Military, Space and the Healthcare industry," added Berman.
Palm Bay is the largest city in Brevard County and 2nd largest city in Central Florida but is only 30% built-out (according to the Palm Beach Development Authority). This offers a very high potential for growth, innovation and opportunities for businesses.
Forbes ranks Palm Bay as "America's 15th Fastest-Growing City in 2017."
AD1 Global has successfully been expanding its portfolio with recent hotel acquisitions and land purchases, including a 59-acre development planned for the red-hot Orlando/Disney World area. The company also entered the Georgia market for the first time, with the Q1 take-over of the Holiday Inn Savannah S. I-95 S Gateway.
"We are positioning ourselves for success by identifying the best opportunities in key growth markets in the Southeast and possibly beyond," said Berman.
Palm Bay is known for its many parks and pristine waters and is sometimes referred to as the "bass fishing capital of the world," which is why recreational giant Bass Pro Shops selected Palm Bay as home for its newest store, the "Stick Marsh Outpost;" but the aerospace industry is the key component of the local economy.
Many of the nation's premiere aeronautical business's and military contractors call this area home and serve the needs of NASA, SpaceX and its diverse contractors.
"With the successful collaboration between NASA and SpaceX, commercial space flight could fuel an economic revolution, not only here but in the rest of the state and perhaps the nation," said Berman.
About AD1 Global:
AD1 Global is a hospitality development and management company located in Hollywood, Florida. The company excels in all facets of the hospitality industry, ranging from the acquisition of existing hotels, new developments, renovations and daily operations.
Contact
AD1Global
Jon McMillian
954-434-5001
www.ad1global.com

Contact