Bella IMC Wins Cabinet Maker's Association 2017 Wood Diamond Award for Lean Production
Indiana Cabinet Maker, Chad Shelton owner of Bella IMC, wins CMA Wood Diamond Award for Lean Production: Lockdowel glue-less, snap-together solution is key to his successful business innovation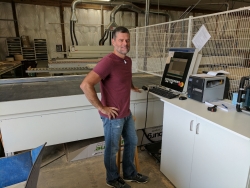 Fort Wayne, IN, July 27, 2017 --(
PR.com
)-- Bella Innovative Modern Cabinetry (IMC) has won the 2017 Cabinet Maker's Association Wood Diamond Award in the Lean Production Practices category. All of their cabinets use the Lockdowel solution for ease of assembling cabinets, and to facilitate shipping and the speed of reordering and repair. With the Lockdowel inter-locking method the need for glue and extra hardware is eliminated.
"Bella IMC is a new way of thinking about buying cabinets," Chad Shelton, Bella IMC President says. "Using the Lockdowel assembly method allows customers to assemble cabinets 80% faster than traditional ready-to-assemble cabinets - without glue, or screws."
Bella IMC's new cabinetry line can be ordered online in customized sizes to a 1/16" assembled or RTA. Bella IMC sells wholesale to kitchen cabinet dealers, home improvement professionals, and cabinet/closet shops looking to outsource. Clients can order the cabinet box only, individual door and drawer fronts. The system is uniquely useful should cabinets become damaged in shipping.
"When sending out cabinetry to one of my contractor customers, the shipper damaged the cabinets in transit. The contractor called in a panic needing to get the three damaged cabinets replaced--immediately. I asked him to tell me the cabinet number and the part that was damaged on each, because they still had the labels on the back and I could identify and remake the part and ship out the next day.
"I explained how the cabinet could be taken apart and put back together. I showed him our basic video and he couldn't believe it was that easy - but he said, 'OK send the parts.' After the contractor received the parts, he couldn't believe how fast and easy it was to change out the components."
--Chad Shelton, Bella IMC Founder and President
Contractors are notorious for ordering casework at the last minute and not leaving any time for mishaps, Shelton explains. "This situation actually made up for the shipper's mistake and the lack of time by the contractor. They were very happy!"
In addition the Allmoxy ordering site that Bella IMC uses allows customers to order their cabinets or components, with their style choices and in exact sizes from the website. This gives the speed, tracking, and agility needed to facilitate orders quickly and accurately within 24 hours for remakes -- and about two weeks for cabinets.
No longer do damages or mistakes require tearing apart and pulling screws and nails out. Simply unassemble and reassemble--good as new! This entire process is efficient, lean and much more simple than standard cabinet construction processes, with less machinery, floor space and a better use of time.
About Bella IMC
Prior to launching Bella IMC, Chadwick Industries was a custom woodwork manufacturing shop for both commercial and residential cabinetry and millwork. Bella IMC specializes in custom designed and one-off work from architects and contractors. Chadwick Industries has completed projects for many midwest hospitals, University of Notre Dame, W-Hotel in Austin, Venetian Hotel Las Vegas as well as homes in the U.S. Virgin Islands. Chadwick Industries is a fully automated cabinetry facility with capabilities to complete several large projects simultaneously. Chadwick Industries - 2410 Main Street, Huntertown. IN, 260.338.2577 info@bellaIMC.com
http://www.cabinetmakers.org/2017-wood-diamond-award-bella-imc.html
https://www.youtube.com/watch?v=aKEf-g91OSo
Contact
Mary Lynn Heath, PR
Mary Lynn Heath
405.641.9733
www.lockdowel.com

Contact