Medlantis Launches "Vital Video"
First ever web-app dedicated to data mining medical video.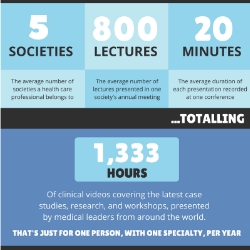 Toronto, Canada, August 01, 2017 --(
PR.com
)-- Medlantis is launching
Vital Video
, a data-mining engine for medical video to help healthcare professionals solve their problem of staying clinically current given an overwhelming rate of change in medical, technical, and clinical innovation.
"Vital Video is specifically designed to highlight short video clips of how physicians use medical technology to perform interventions requiring high-degrees of skill. We get the worlds' leading medical 20-40 minute training videos, and automatically segment them into 2-4-minute clips covering case studies, technology comparisons, risk mitigation, safety, etc... Medlantis then sorts and serves up short clips of highest relevance to physicians, nurses, technologists and medtech professionals, alerting them when new clips match their interests. Using transcription, keyword, contextual and sentiment analysis, meta-tagging, filtering and search features, all fed through a relevancy engine, Medlantis offers a highly effective learning experience. This gives medical professionals access to short, relevant, 'vital video' clips they need without having to search for it all themselves, which in practice is impossible," said Dr. Kieran Murphy, an internationally renowned neuro-radiologist, medtech entrepreneur, and founding Chairman of Medlantis. "Our users represent the current and next generation of healthcare professionals, and they expect digital and on-demand access to relevant teaching. We give them exactly that."
"Medical teaching, based on face-to-face mentorship, is effective but phenomenally inefficient. Over the next 20 years, the growth in the world's healthcare training needs will come from emerging markets, as well as the developed world. Up until recently, it's been possible to teach and train only through face-to-face workshops, symposiums, and conferences – which is extremely difficult for emerging market physicians to attend. Medical societies are fantastic at attracting experts and delivering these experiences with a high level of quality, and this is why Medlantis partners with them. The learners, however, are increasingly international, and more often than not, cannot attend these excellent teaching opportunities. We've done the hard work of bringing it to them with a high degree of relevance, and optimized for mobile viewing," explained Andrew Witchell, COO of Medlantis.
During the public beta, Vital Video was tested in dozens of emerging market countries. "I think I have found a jewel today. This means so, so, much to me in my studies. Thanks a lot. I have no words now to say thank you. This program is a great initiative and I would definitely recommend it," explained Suyogya W. a first year resident in the department of radiology, TU Teaching Hospital, Institute of Medicine, Maharajgunj, Nepal.
Medlantis data mines & matches 1000's of hours of medical lectures, cases, procedures, workshops, and demonstrations from the world's top medical societies then matches that information to a Healthcare Professional's interests and preferences to help them vastly improve the return on their enormous effort invested in staying clinically current.
Contact
Medlantis Inc.
Andrew Witchell
+1 (416) 668-4350
medlantis.org

Contact