EcoMech Geothermal of Atlanta Adds Innovative WaterFurnace Savings Calculator to Website
The savings calculator provides homeowners with a free estimate of savings when installing a WaterFurnace geothermal system by Atlanta's own EcoMech Geothermal Heating and Air, versus the conventional gas, oil or propane furnace or an air to air heat pump.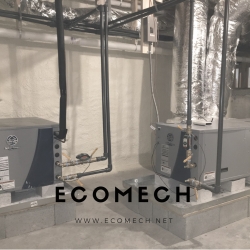 Atlanta, GA, August 15, 2017 --(
PR.com
)-- Atlanta's Southeast WaterFurnace Contractor
EcoMech
Geothermal and Mechanical shows homeowners just how much they can save by making a "greener choice" from their current heating and air system to a watersource system. "We are seeing another upswing in WaterFurnace geothermal units leaving the factory for home installation by the hundreds and that trend continues to grow for the smart Atlanta homeowners switching to a water source heating and cooling system," says Tim Uzar CEO of EcoMech Geothermal and Mechanical.
EcoMech Geothermal the top geothermal HVAC system dealer for over 3 decades in the Atlanta and Florida markets continues to grow even in a time when tax credits are scarce. Homeowners choose EcoMech Geothermal and Mechanical because they are the Top Atlanta Geothermal Trusted Company of the Southeast. EcoMech shows its homeowners just how much they can save by using the new link on their website to the
WaterFurnace Savings Calculator
now prominently displayed.
Atlanta homeowners or any market can use the WaterFurnace Savings Calculator to see their savings when they switch to a WaterFurnace geothermal system. "However, the truth is geothermal systems still cost more than regular heating and air, but the beauty of owning a geothermal system shines through when looking at the advantages it has over others," said Uzar. "Energy efficiency will continue to influence buyers, there is less maintenance on a geothermal system due to its components being inside and underground, and it will help to reduce your energy bill, plus the system is very quiet when compared to an air source system since there are no outdoor units."
When using the WaterFurnace savings calculator, homeowners are asked a small number of questions and by using those answers the calculator then provides three options to the homeowner - Good, Better, and Best Options. Each choice includes the approximate annual heating and cooling savings and water heater savings the unit offers.
WaterFurnace International, Inc., is the leading manufacturer for residential, commercial, industrial, and institutional geothermal and water source heat pumps. EcoMech Geothermal and Mechanical is one of WaterFurnace's Top SouthEast Geothermal Contracors and when considering a geothermal heating and cooling system in your home give EcoMech a call. EcoMech Geothermal is Atlanta's "Geothermal Company" - just ask anyone and you'll hear our name!
Contact
EcoMech Geothermal and Mechanical
Tim Uzar
678-673-1822
www.ecomech.net

Contact