Drone Forensics Now Offered by ReStoring Data
ReStoring Data now offers drone forensic services to its list of offerings which already includes data recovery and digital forensics for computers and mobile phones.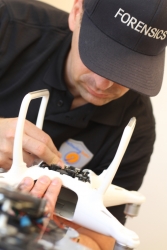 Vancouver, Canada, August 10, 2017 --(
PR.com
)-- Comprehensive drone forensic services are now available at ReStoring Data. This new digital forensic service comes at a time where the ability to acquire and fly big and fast unmanned aerial vehicles ("UAVs" or "drones") is easier than ever.
This new forensic service offered by ReStoring Data can be utilized by anyone, from law enforcement to individuals, to extract and analyze data from drones involved in improper operations. ReStoring Data has developed expertise and proprietary tools, in partnership with AerialX, to provide forensically sound analyses of drones.
It is expected that drones will become involved in an increasing number of problematic incidents. Privacy invasion, property damage, industrial espionage, and terrorism are just a few examples of situations where government officials will need special expertise. With the right tools at hand, a drone's internal data will lead investigators right to its pilot. There is a potential wealth of evidence in a drone, but only if the logs are parsed properly.
Data that is stored in drones includes second-by-second GPS telemetry, past flight paths, and saved flight plans. Each model can have a different type of telemetry storage format, but ReStoring Data's developers are equipped to decode the logs of popular UAV models or work to develop innovative technology for rare UAVs. The company is prepared to assist clients with forensically analyzing any UAV, even those severely damaged in a crash, by leveraging its exemplary forensic team of technicians, analysts, and developers in its fully-equipped data recovery and digital forensics lab.
"Collaboration between our incredible staff and experts in the drone and forensics industries has allowed us to expand service into the field of drone forensics," said Noam Kenig, CEO of ReStoring Data. "The array of evidence our analysts can extract from virtually any drone is unbelievable and will be of immense value to any investigation or legal case involving a drone."
ReStoring Data now has the expertise and in-house tools required to completely analyze drones for any information that might assist those seeking justice.
Want to know more? Visit our
Drone Forensics Service
page or e-mail us Drones@ReStoringData.ca with inquiries about this new service.
About ReStoring Data:
Founded in 2006 and headquartered in Vancouver, BC, ReStoring Data is a leading, multi-award-winning data recovery and digital forensics company. The company specializes in the retrieval of critical data as well as digital evidence from hard drives, RAIDs, USB flash drives, memory cards, smartphones, and tablets. The company serves its clients within a state-of-the-art Class-100 clean room environment lab using proprietary solutions, leading forensics tools, and the most skillful specialists with decades of combined experience in the field. ReStoring Data constantly invests in research and development which allows it to consistently remain at the forefront of the industry. With locations across Canada (Vancouver, Calgary, Edmonton, Saskatoon, Winnipeg, Ottawa, Mississauga, Toronto, Montreal, and Halifax), dedicated case managers, unparalleled recovery success rates, and a passion for constant technological advancements, ReStoring Data is the most trusted choice for data recovery and digital forensics.
About AerialX Drone Forensics Inc.:
Founded in 2013 and headquartered in Vancouver, British Columbia, AerialX Drone Forensics Inc. develops tools for detecting, tracking, and forensically examining unmanned aerial vehicles and their pilots. Whether it is at a crime scene or conflict-zone, AerialX's ruggedized drone forensic field-kit is a one-of-a-kind tool that assists officials with investigating drones, a rapidly changing instrument of crime and conflict. AerialX's industry exclusive portable drone forensic solution rapidly extracts actionable intelligence for law enforcement, government agencies, and defense forces worldwide.
Contact
ReStoring Data Inc.
William Laycraft
1 (877) 737-8003
www.ReStoringData.ca

Contact