New Music from Donnell Isaac
From inspiring you to continue in the fight of your in everyday life, to inspiring you to not give up on love; Donnell Isaac sure did hit the nail on the head with his new single, "Loving You." Donnell Isaac gives transparency at his best with first sharing his own experience with his true love.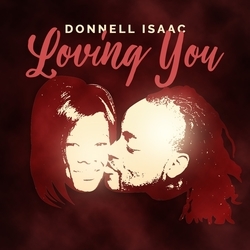 Greensboro, NC, August 18, 2017 --(
PR.com
)-- Soul singer Donnell Isaac, who shot to fame with the hit single Shelter from the Storm, is set to amaze and inspire everyone with yet another heartwarming single called "Loving You," to be released on August 18, 2017.
One of the rising stars in the soul music industry, Donnell has been steadily making waves since the start of his career. Donnell shot into the mainstream, when he won the Best New Artist award in the 2014 Chosen Voice Awards. There's a great deal of hype surrounding his upcoming new track so Donnell will be discussing it in upcoming scheduled interviews.
"It's a song that I wrote that expresses the core of my heart. It explains why I love my wife so much," says Donnell Isaac. "This will be the first single off my forth coming album Love Changes. In this song I talk about how I sometimes can't understand how she finds common ground with me in the simplest things."
Donnell Isaac is a soul music singer and recording artist. He's a singer and songwriter, and he taught himself how to play the keyboard throughout the years.
Donnell hails from Portsmouth, Virginia. He grew up in a town where drug abuse and poverty were rampant. But in spite of that, Donnell was able to direct his efforts into creative pursuits. However it still remained difficult for Donnell as there were years of hardship, financial setbacks, business decisions that failed, and all this culminated with the loss of Eva Mae Charlton, Donnell's maternal grandmother. Donnell succumbed to depression to the point of being tempted to take his own life. And that was when he found solace in religion. Donnell talks about how his wife was there for him during these times.
"Even through the rough patches when family and friends think we are doing so well. But because of who she is, as a wife and how strong her love is, it will heal and shield you from any hurt. So I just love her."
Donnell is steadily becoming a big name in the soul music industry. Donnell's hit single "Shelter from the Storm" was a major success and dominated the radio BDS 100's charts for more than 16 weeks. He got back from tough times on his own feet with his last single "Favor" which was a huge success. After listening to Donnell, it seems "Loving You" is going to have the same passion and display the same artistic creativity that fans have come to expect from Donnell.
www.youtube.com/watch
Contact
Donnell Isaac
Natasha Charlton
336-898-7230
donnellisaac.com

Contact