Equality Rules the Galaxy; 10 Year Old Girl Invents Eclipse Toy - Rocket Knobs®
10 year Adria Johnson proves equality in the space race, and invents an eclipse toy for the future called Rocket Knobs®.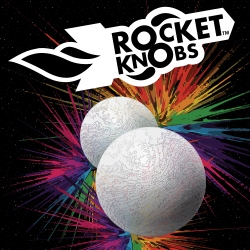 Pleasant View, UT, August 22, 2017 --(
PR.com
)-- 10 year old Adria Johnson certainly believes that girls can do anything; the inventor of Rocket Knobs holds the future in her hands as she celebrates the solar eclipse with a new product, built out of a desire to have fun and make things that remind her of space and the future. She tsays her product is "not about fidgeting!" It happens to be somewhat inspired by solar eclipses and features two orbiting spheres. She and her father developed the small toy that allows for experimentation with the effects of angular and rotational momentum and newtonian physics. It's a very simple toy that holds some unique properties. Adria points out that Rocket Knobs® are the World's next super toy with many uses. She says the joy comes from tossing, spinning, flipping, rolling, and using them to massage your sore muscles.
The 10 year old Utah native is unshakable in her feeling that girls can do anything and should reach for the stars when it comes to their goals. She says the current target for her is to reach her funding goals on her Indiegogo® campaign so that she can invest in the manufacturing and distribution of Rocket Knobs®.
"I didn't realize there was so much that went into making a product, but now that I have started in the process, I totally think I can get this product to market. My artistic dad is helping me with the day to day marketing and project management to see it through to completion." -Adria Johnson
When asked where such an odd product name came from, she replied that "My dad and I had some brainstorming sessions where we tossed around some fun names. I knew the name should be something that recalls the launch of humans traveling to space, and beyond that, to walking on the moon, and seeking to go further out to Mars, or beyond. I really want people to think of the future and all the amazing things that have taken place in the past to break the bounds of gravity and put us in a position to see the cosmos from a different perspective than ground level. We can do amazing things and I want this new product to bring that into focus and be a reminder."
When it comes to the solar eclipse, Adria points out that the best way to re-live it is to "donate to my Indiegogo® campaign, and then buy some freeze dried ice-cream and listen to "Ticket to the Moon" by Electric Light Orchestra while you watch all the replays online."
YouTube Video:
youtu.be/hHvwI8bZ8y0
Coming soon to Indiegogo:
www.indiegogo.com/projects/rocket-knobs-the-original-fun-unique/coming_soon
Contact
Rocket Knobs
Jared Johnson
801-389-5081
rocketknobs.com

Contact