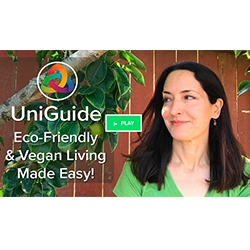 San Francisco, CA, August 23, 2017 --(
PR.com
)-- UniGuide, the new lifestyle site dedicated to eco-friendly and vegan living, launches today on the crowdfunding website Kickstarter. UniGuide hopes to raise $19,000 for the creation of new content that makes it easy and enjoyable for people to find products and services that are healthy for people, do not harm animals, and have a minimal negative impact on the environment.
If successfully funded, UniGuide will:
· Create 200 new pieces of original written and video content to inspire visitors and help them make environmentally sustainable and vegan lifestyle choices. Content will include how-to guides, editorial content, product information, buying guides, vegan recipes, interviews with thought leaders, and more
· Implement technical improvements to the UniGuide.com website to improve user experience
The company has included two stretch fundraising goals of $38,000 and $76,000 in its campaign. Additional funds raised will be used to create more written and video content, a community section on UniGuide.com, and a mobile app.
UniGuide was inspired by some of the big challenges of our day, including:
Diet and lifestyle-related health problems, such as diabetes, cancer, and heart disease, and their emotional and financial costs to people, their loved ones, and society
Climate change and the destruction of ecosystems that support life on our planet, such as coral reefs and rainforests
The extinction of countless wild species with whom we share our planet and the mistreatment of domesticated animals, notably those used in our food supply
When more people adopt a plant-based diet and opt for products that are environmentally sustainable, the impacts of these problems can be mitigated. For example:
· According to a study published in the Proceedings of the National Academy of Sciences and reported by NBC News, people adopting a plant-based, or vegan, diet could save the world $1 trillion per year in healthcare costs, unpaid care, and lost working days. In addition, they could save $570 billion in costs by reducing greenhouse gas emissions.
· Wearing vegan clothing, shoes, and accessories instead of those made from leather could save one billion animals annually from enduring a lifetime of suffering. (Food and Agriculture Organization of the United Nations via PETA)
· Opting for products, such as shoes, clothing, accessories, and homewares that are made from recycled, upcycled, and biodegradable materials can save energy costs and keep plastic and other pollution out of landfills and the ocean. For example, 11 recycled plastic bottles can be used to create one pair of shoes and five recycled plastic bottles can be used to create fiberfill for one ski jacket. (Adidas and Recycle Across America)
UniGuide currently features a range of products, including clothing, shoes, accessories, pet accessories, home décor, and personal care products that are vegan, eco-friendly, or both. In addition to content, Kickstarter funds will be used to expand upon the selection of products and brands presented on UniGuide.
"People are increasingly curious about plant-based eating and the stories behind the products they buy," said UniGuide founder and CEO Kristen Stanton. "We want to indulge that curiosity and build awareness for the innovative product developers, vegan chefs, and other thought leaders who are helping to create the 'triple win' of being healthy for people, the planet, and animals. Kickstarter is a wonderful platform to help us accelerate this momentum, and I'm over the top excited to have this opportunity to raise funds and reach the next level in our growth."
To see the project video and to back
UniGuide on Kickstarter
, visit their product page at:
https://www.kickstarter.com/projects/2140615702/uniguide-products-and-guides-for-sustainable-and-v
About UniGuide®
UniGuide is a new lifestyle site whose mission is to make it easy and enjoyable for all kinds of people to get information on products and services that are healthy for people, do not harm animals, and have a minimal negative impact on the natural environment. We serve as a guide for consumers and as an ambassador for the thought leaders, entrepreneurs, and established companies who are creating these products and services. On UniGuide, you'll find sustainable and vegan products, including clothing, shoes, and accessories, home décor, personal care products, pet accessories, and more. Plus, you'll find vegan recipes, videos, and curated content from thought leaders in the eco-conscious and plant-based lifestyle movements. UniGuide donates at least 1% of revenue from product sales to animal welfare, wildlife conservation, and environmental protection nonprofits and we offset the carbon emissions from our operations.
Contact:
Kristen Stanton
pr@uniguide.biz