19 Year Old Launches Skin Care Company by Giving Away Free Products
University of Alabama Honors student, Emily Justice, serves as the President of Bye Blackhead.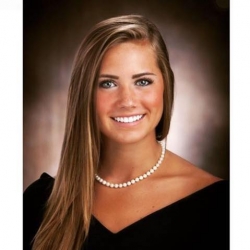 Tuscaloosa, AL, August 29, 2017 --(
PR.com
)-- University of Alabama sophomore, Emily Justice, is excited to announce the launch of ByeBlackhead.com, an online store that will be giving away the trendy peel-off face masks for free. Shipping not included.
Justice believes Bye Blackhead will allow her peers to feel more confident in their own skin, despite being on a college student budget. The featured product, the peel-off face masks, will also be accompanied by an array of blemish fighting tools. All products will be included in the promotion.
Since the soft launch, there has been significant social traction. The Facebook page currently has over 2,000 likes in less than a week. Justice has leveraged her social network tremendously and customers are thrilled with the products they have been receiving.
Justice's approach is unique, in that profits are not her inital motive. "First and foremost, this company was founded out of a genuine care for people. I have ambitions of working in the dermatology field, so this serves as the perfect foray." Justice continues, "As cliche as it may sound, I honestly enjoy helping people and making them more confident in their own skin."
When asked about her free giveaway promotion, Justice expressed her belief in the power of brand awareness. "Despite the products being essentially free, I still get excited for every sale. I'm building what I believe will be a solid foundation for the longjevity of my business. While the products are free, I can work out any kinks in my business and pivot if nessecary."
Justice retained celebrated young entrepnuer, Chad Carrodus, to serve as an advisor. Carrodus has an extensive background in e-commerce. He recently sold one of his stores, Wood Sunglasses Outlet, for an undisclosed amount and currently runs a B2B software, BizBoards.
Carrodus says, "Emily's passion and drive is contagious. She pours everything into her business and her customers. Her creativity when it comes to marketing and general business savy truly amazes me. I've had the pleasure of working with and coaching countless aspiring entreprenuers and Emily stands out as one of the most impressive."
In addition to having a mind for business, Justice has a heart for charity. She stressed the importance of giving back and her intentions on doing so once she starts turning a monetary profit.
Get a free face mask as well as other facial care tools here: https://byeblackhead.com/
Media Contact
Carrodus Asset Management, LLC
2142697580
chad@carrodus.co
Contact
Carrodus Asset Management, LLC
Chad Carrodus, Chairman
214-269-7580
carrodus.co

Contact