Looking for Rosh Hashanah Lunch and Dinner in a Glatt Kosher Restaurant in Manhattan, New York? Talia's Steakhouse & Bar Announces They Will Offer Prepaid Meals.
For over 15 years, Talia's Steakhouse has been offering prepaid Glatt Kosher lunch and dinner during Rosh Hashanah, Sukkot, Simchat Torah and Shabbat.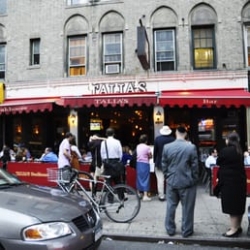 New York, NY, September 04, 2017 --(
PR.com
)-- People from every faith community look forward to enjoying time off during their holidays. But Jewish holidays are somewhat different from secular ones, and Jewish people also like to observe the weekly Shabbat, or Sabbath. Various other upcoming holidays include Rosh Hashanah, Sukkot, Shmini Atzeret, Simchat Torah and Passover.
For this reason, Talia's Steakhouse has been the premier kosher restaurant in Manhattan's Upper West Side for the last fifteen years, and it's still the place to visit.
For lunch and dinner, Talia's has always served the best quality prime cuts of kosher steak. For those who choose not to eat red meat, Talia offers Moroccan salmon, chicken marsala and even vegetarian entrees. The pre-paid meals that it offers during the Jewish holidays and Shabbat are also served at Talia's sidewalk café if the weather permits. At this cafe, guests can enjoy an outdoor lunch or a delicious Glatt Kosher dinner, complemented by popular cocktails from Talia's bar.
For menus, prices and additional information, click the following link:
https://taliassteakhouse.com/holidays/jewish-holidays/rosh-hashanah/
Few other kosher restaurants in Manhattan's Upper West Side offer such opportunities.
As a Glatt Kosher restaurant, Talia's Steakhouse operates under rabbinic supervision. Its kosher certification ensures that pre-paid Shabbat and holiday meals are prepared according to Orthodox Jewish laws. Hence guests pay for their meals before the Jewish holiday or Shabbat begins.
Everyone who drops in during the religious holidays is guaranteed an enjoyable kosher meal, but Talia's has an important point of difference from other kosher restaurants. Since the Sukkot holiday is a time when Jewish people traditionally spend much of their time in a special hut, a large sukkah is built around the sidewalk café.
During all of Chol Hamoed Sukkot, Talia's offers a regular à la carte menu. But it also serves pre-paid holiday meals at a fixed price, and such meals will again be served for Shmini Atzeret and Simchat Torah. Each customer finds a copy of the prix-fixe menu at their table when they arrive. For an entrée, they will have a selection of beef, chicken or fish to choose from.
To give you an idea of the meals you can expect from Talia's during the week of Sukkot, copy and paste the following link for a short video: www.youtube.com/watch?v=IjXD2Yf1Nb8
You'll soon discover that Talia's is not just any kosher restaurant. Not only does it offer customers amazing kosher dining, but it also makes the holidays special for Jewish guests by incorporating traditional Jewish customs with their meal. For each guest there is Kiddush wine, challah, a prayer book and a copy of the appropriate blessings. Before the start of the holiday or Shabbat, customers also have the option of lighting candles. One of the reasons for the pre-paid meals is so people can appreciate the spiritual atmosphere of the dining experience without the distractions of walk-in customers and cash registers.
During Shabbat and certain holidays when cooking is not permitted, all the dishes must be pre-cooked. Hence there is no a la carte menu on those days. The Shabbat and holiday foods are cooked in deep pots with plenty of liquid and vegetables to keep them moist and fresh. (On-the-spot grilling is allowed on certain holidays that do not fall on Shabbat.)
As far as the kosher restaurants of New York City go, Talia's Steakhouse has to be one of the most romantic. Candles and roses adorn each table, making the dining experience special for any couple who wants to dine out during Shabbat or a Jewish holiday. Talia's Glatt Kosher Shabbat and holiday meals are a magnet for Jewish travelers and tourists visiting New York. Several affordable hotels are located within fifteen minutes' walk from the restaurant, so you don't need transportation during Shabbat or the Jewish holidays. The Hotel Newton and Days Inn (both less than four minutes' walk from Talia's) are prime examples. Likewise, shuls, synagogues and other Jewish service organizations can easily be reached on foot.
Are you planning to entertain a large party? Talia's is your ideal venue. The whole restaurant can be rented out for Shabbat and holiday meals. Chabad of the West Side and Columbia University are two who have hired it for their special events. The entire restaurant can also be rented by individuals and families for parties such as bar mitzvahs, aufrufs, sheva and brachot.
Being an established kosher institution, Talia's Steakhouse also provides off-site catering to hotels and shuls located in the New York Metropolitan area. Plus you can get take-out Shabbat and holiday meals, or have them delivered.
For further queries and information, feel free to visit Talia's website:
http://taliassteakhouse.com/
Talia's Steakhouse & Bar
NYC Kosher Restaurants
668 Amsterdam Avenue
New York, NY 10025
Tel: 212-580-3770
Email: Info@taliassteakhouse.com
Contact
Talia's Steakhouse & Bar
Adam Nagar
212-580-3770
http://www.taliassteakhouse.com

Contact