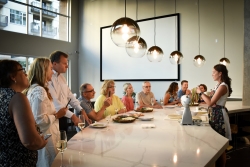 Mercer Island, WA, September 05, 2017 --(
PR.com
)-- Architect Suzanne Zahr and SZ Build, Inc. announced the grand opening and ribbon cutting ceremony for Caruccio's, their latest Design-Build project, on September 14 at 4 pm. Caruccio's is the region's newest culinary event center with a state-of-the-art demonstration kitchen and multimedia broadcasting capabilities located at 2441 76th Avenue SE, Suite 100, Mercer Island. Grand Opening activities include live chef demonstrations, food tastings from 4:00 - 8:00 p.m., and ribbon cutting ceremony at 5:00 p.m.
Caruccio's is poised to be the region's go-to place for wine and film events, televised cooking classes, live food blogging, food photography, product launches and private events.
Realized from beginning to end by the efforts of Zahr and her team, Caruccio's is their latest project that showcases their deep involvement in all aspects of the business.
Zahr is a great mentor for business owners because she draws upon a rich background of experience in architecture, construction, real estate, art, and marketing. She guides her clients through the entire project life cycle to make their dream into a reality – from feasibility studies, lease negotiations, business planning, and brand identity development, to designing and building a venue with her design-build firm.
After 20 years of being an architect, Zahr decided to create SZ Build, Inc., to work in sync with her Design firm, Suzanne Zahr Inc. Zahr's purpose for starting a Design-led, Design-Build firm is to bring the Master Builder methodology back to the industry, where the architect takes on full ownership and authority for their design and the realization of it. By handling both the design and construction, there is less finger-pointing and the planning, decisions, and problem-solving can all be handled in-house.
For the Owner, working with Zahr means having the peace of mind and the convenience of an all-inclusive project planning experience. The Owner can save time and money, have one singular point of contact, fewer change orders, and a reduced risk of liability so the process becomes more streamlined.
Zahr provides consistency to make sure the dream is realized in each step of the process. "Suzanne has a talented team working for her, and it's been wonderful having her as the one point of final contact," owner Lisa Caruccio explained. "We have always had an understanding of my vision and what I want, and (we have) great communication, and she's always easy to reach, which means a lot to me."
Caruccio's is preparing the final details for the September 14 grand opening and it is an excellent example of an Architect-led Design-Build effort, including the development of their brand identity and website. "This flexible, versatile venue will offer a sense of community, nostalgia, and memory making through its elegant but approachable finishes, lighting, and furnishings," said Zahr. "Caruccio's is designed to be a place to 'Learn. Mingle. Share.'"
Caruccio shared a final comment about how satisfied she is with the project. "I knew (Suzanne) would honor my dream and make my investment so worth it. And she has continually proven this to be the case."
The centerpiece of the two-level, 1800-square foot event center is the grand demonstration kitchen featuring a 21-foot long curved countertop with twelve burners and huge overhead screens allowing attendees to view all the action. Street-facing windows provide a warm ambiance for the main level, with seating for up to 40 diners (or standing room for 80 guests). Overlooking the main level is a 440-square foot mezzanine furnished with a large round table and a fireplace intended for more intimate gatherings and business meetings.
Learn more about the Caruccio's project:
https://www.suzannezahr.com/blog/caruccios-build-event-photos
https://www.suzannezahr.com/blog/2017/7/28/building-caruccios- from-the- ground-up
https://www.suzannezahr.com/blog/2017/7/21/caruccios-a- fully-realized- dream
SZ Build, Inc. and Suzanne Zahr, Inc. are owned and operated by Suzanne Zahr the owner and creator of an Architect-led, Design-Build practice on Mercer Island. Zahr's firm takes a symbiotic approach to designing and building creative environments as she empowers her team to bring creativity and ingenuity to life in close collaboration with residential, corporate, and retail clientele.
Suzanne Zahr, Inc.
www.suzannezahr.com
, info@suzannezahr.com, 206-354-1567