PatientClick Launches Telemedicine for Concierge Medicine Practices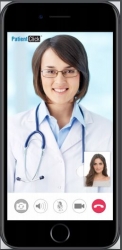 San Diego, CA, September 05, 2017 --(
PR.com
)-- PatientClick is pleased to announce the launch of Telemedicine for Concierge Medicine Practice. Whether you are starting a new practice or converting your existing practice to a Concierge Medicine Model, Telemedicine is the fastest, easiest way for doctors to connect directly with patients. And, the application makes it simple for patients to find a physician on demand right from their smartphones. The anywhere, anytime service model allows physician practices to send text reminder prior to appointment, collects monthly payments for membership and automate communication with patient's care team. The next generation technology by PatientClick empowers physicians to make accurate clinical decisions with high-quality interactive audio and visual components that closely mirror face-to-face medical encounters.
As a concierge medical provider, you need to deliver more affordable, more accessible and more convenient care for remote and mobile patients compared to traditional service delivery models that require an office visit to refill prescriptions or offer mental health counseling. According to Ash Mehta, CEO of PatientClick, Inc., "Telemedicine is the way to go for Concierge Medicine." PatientClick Telemedicine Concierge Medical Practice's solutions empower doctors to meet the ever-changing needs of their patients while saving them time and money. It has never been easier to enhance patient satisfaction while improving revenue potential than it is today with web-based connectivity and mobile applications.
More than three out of four (75 percent) patients prefer to choose their own medical provider rather than have one chosen for them by insurance carriers or other methods. Virtual visit platform such as PatientClick's TeleMedicine Technology give patients the tools they need to manage their own health and choose their own providers and connect with them even when they are not in town. Concierge service technology by PatientClick allows physician offices to now offer this solution to their patients.
PatientClick's Telemedicine for Concierge Medical Medical Practice is designed to meet the needs of medical providers and patients in today's fast paced environment. Video-Based Telemedicine application allow physicians to consult with patients who are remote with a HIPAA-compliant secure, integrated, video-based telemedicine solution; The platform offers secure Video chat, message chat, file transfer capabilities & group session capability for multiple providers and patients scenarios.
About PatientClick, Inc.: PatientClick is an easy to use web based EHR, Telemedicine & Practice Management system that improves patient care and staff efficiency at Physician's Office. PatientClick allows access to a web based multi-platform (Mac, PC, smartphone, and iPad) Clinical application; customizable dashboards, integrated patient portal, and multi-provider communication tools.
For more information, visit the PatientClick website or contact a solutions management team member at 877.901.9990.
Contact
PatientClick, Inc.
Vish Mehta
877-901-9990
www.patientclick.com

Contact