PINC Receives New Product Innovation Award from Frost & Sullivan
PINC commended by Frost & Sullivan for being an innovator in the global autonomous inventory robotics market with its inventory drone solution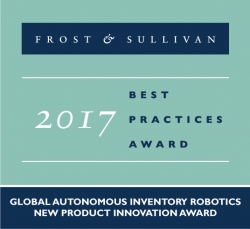 Union City, CA, September 06, 2017 --(
PR.com
)-- PINC, the number-one provider of
yard management
systems (YMS),
finished vehicle logistics
, and
inventory robotics
solutions to the world's largest brands, receives the 2017 New Product Innovation Award from Frost & Sullivan for its autonomous inventory robotics solution, PINC Air.
The Frost & Sullivan Best Practices awards have identified exemplary achievements with a multitude of industries and functional disciplines for the last 17 years. Frost & Sullivan conducts best practices research to properly identify unrivaled innovation and leadership among companies, products, processes, and executives.
Receiving the Frost & Sullivan New Product Innovation Award is a compelling, third-party validation of a company's growth strategy and execution. According to the analyst firm, PINC's Best Practices Award is a very strong indicator to employees, investors, customers, and the public that PINC has superior solutions and a viable strategy in the autonomous inventory robotics market.
"PINC's aptitude for developing innovative product platforms by converging several technologies, including optical sensors, deep learning, edge computing, computer vision, hydrogen fuel cells for power sources, and RTLS, to tackle current and emerging customer challenges via comprehensive and cost-efficient solutions makes it a clear leader among its peers," said Muthuraman "Ram" Ramasamy, Consulting Manager – Digital Industrials at Frost & Sullivan. "The solution's quick deployment model, faster inventory velocity, product ingenuity, and rapid ROI underscore the decision for PINC to win the 2017 New Product Innovation Award."
When asked about the accomplishment, PINC CEO Matt Yearling stated, "Receiving this award from such a respected analyst firm confirms our leadership position in deploying drones for inventory reconciliation purposes. Since 2014, our team has been working closely with large corporations in the application of this technology, which includes innovations that have been built upon our core intellectual property." Mr. Yearling concluded, "This award, coupled with customer affirmations, reinforces our appetite for excellence and our drive for results."
PINC will formally receive the award in a gala event at the Frost & Sullivan Growth, Innovation, and Leadership North America summit in Austin, Texas on 18 September 2017.
The report containing the best practices research is available for download through the link:
2017 Global Autonomous Inventory Robotics - New Product Innovation Award
About PINC
PINC provides scalable software, hardware, and services that enable companies to locate and move inventory through the supply chain faster, cost-effectively, consistently, and more efficiently. The company's cloud-based real-time asset tracking platform, powered by an Internet of Things (IoT) sensor network that includes passive RFID, GPS, optical, cellular, and other sensors, provides actionable insights and connected expert guidance that allow companies to optimize their supply chain execution. Learn more about PINC at www.pinc.com.
About Frost & Sullivan
For more than 50 years, Frost & Sullivan has been developing growth strategies for the global 1000, emerging businesses, the public sector, and the investment community. Learn more at www.frost.com.
Contact
PINC
Rafael Granato
510-474-7500
www.pinc.com

Contact