Country Music's Rising Stars and Sister Duo Presley & Taylor Release Heart Over Mind Featuring Pam Tillis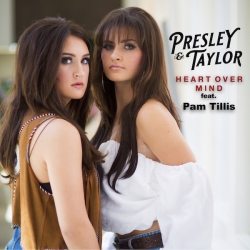 Nashville, TN, September 07, 2017 --(
PR.com
)-- Country Music's dynamic new sister duo release a re-make of the Mel Tillis classic Heart Over Mind featuring country hit-maker Pam Tillis. Illuminated by a traditional ensemble with steel guitar, twin fiddles and three part harmonies, the song leaves country taping their feet. Heart Over Mind is a preview to Presley & Taylor's forthcoming album which has recently been completed and is scheduled for release.
To see The Making of Heart Over Mind:
youtu.be/fcfPDbH3ehU
About Presley & Taylor
Raised in a small farm town in Connecticut, sisters Presley & Taylor spent most of their time alongside their family of talented musicians. Listening to country music greats and world-class trendsetters such as, Tammy Wynette, Tanya Tucker, Randy Travis and Alan Jackson, the girls grew a deep appreciation for Country Music.
Described as "the real deal" and "absolutely brilliant" by radio execs, the "neo-traditional" Presley & Taylor embrace the sound of stone cold country music traditions with absolute vocals and impeccable harmonies.
Presley & Taylor have shared the stage with award-winning entertainers and hit-makers such as Martina McBride, Ashton Shepard, Bucky Covington, Janie Fricke, Sarah Darling, Jamie O'Neal, The Willis Clan, Buddy Jewell and Restless Heart. They have become regular performers at Tootsies Orchid Lounge, The Nashville Palace, the Hard Rock Café, Margaritaville and Ernest Tubb Record Shop in Music City- Nashville, TN. They have also made a number of in-studio, special-guest appearances on WSM-650AM, the radio home of the Grand Ole Opry.
The duo looks forward to releasing their highly anticipated up-coming album, which features Country Music Icon, Pam Tillis on the song "Heart Over Mind." In April of 2017 the duo performed "Heart Over Mind" with Pam Tillis on the stage of the Grand Ole Opry. On July 5, 2017 Presley & Taylor joined the roster of Nashville's oldest and largest privately owned talent agency Buddy Lee Attractions.
Contact
Mercy Music City
Daneen Saks
615-208-7767
presleyandtaylor.com

Contact