Texas Trust Gives Away $2,500 to UTA Students in Snapchat Contest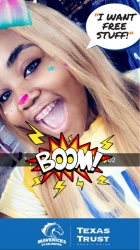 Arlington, TX, September 13, 2017 --(
PR.com
)-- Five University of Texas at Arlington (UTA) students won a total of $2,500 from Texas Trust Credit Union during the credit union's "I Want Free Stuff" Snapchat photo contest.
The promotion gave UTA students a chance to win $500 each by taking a creative selfie. Using Snapchat, students took selfies inside the UTA bookstore and applied the "I Want Free Stuff" filter to enter the contest. Five students were randomly drawn from the entries, each winning a $500 Mastercard gift card and a 2017-18 admission pass to all UTA sporting events. The contest generated more than 250 entries and more than 2,000 filter shares among UTA students.
The UTA bookstore was the focal point for the Snapchat contest held during the bookstore's busiest time of the year as students prepared for the start of the fall semester. For several days, more than 19 employees and executives of Texas Trust, including President and CEO Jim Minge, worked in the UTA bookstore helping students and sharing information about personal financial services.
"The 'I Want Free Stuff' campaign was a fun and easy way for UTA students to win money for their college expenses," said Debi Knoblock, AVP of Business and Community Engagement for Texas Trust. "The contest allowed us to interact with students and introduce them to the credit union. We also used the promotion as a way to educate students about the financial services we offer students as part of our partnership with UTA."
Texas Trust is the official credit union sponsor of UTA athletics. The credit union has a UTA branch which serves students, faculty, and residents and businesses that surround the campus.
High resolution images of the winning Snapchat entries can be downloaded at https://www.texastrustcu.org/news/texas-trust-gives-away-2500-uta-students-snapchat-contest/
About Texas Trust Credit Union
Texas Trust Credit Union was created in 1936 when a group of Chance Vought Aircraft Corporation employees pooled their savings so they could help each other achieve financial goals. Today, more than 84,500 members are served through checking and savings accounts; loans (personal, mortgage, auto, and small business); credit cards; insurance products; and investment services. Texas Trust Credit Union supports local students through its "Spirit Debit Rewards" program. With every eligible swipe of an SDR card, funds are donated to the school or district of the member's choosing. To date, Texas Trust has donated over $1.5 million since August 2011. Texas Trust serves members in Dallas, Tarrant, Henderson, Ellis, and Johnson counties through 17 locations in Mansfield, Arlington, Grand Prairie, Cedar Hill, Midlothian, DeSoto, Hurst, and Athens. With assets of more than $1.2 billion, Texas Trust is one of the largest credit unions in North Texas and the 18th largest in Texas. For more information, visit http://www.TexasTrustCU.org or follow us on facebook.com/texastrustcu or Twitter at @texastrustcu.
Contact
Texas Trust Credit Union
Kristine Tanzillo
903-865-1078
www.texastrustcu.org

Contact