Bethany Garrity of the National Institute for Fitness and Sport will Speak During the 2017 ICAA Conference and Trade Show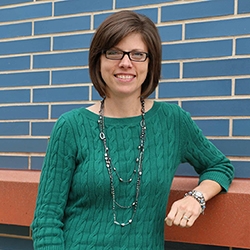 Indianapolis, IN, September 14, 2017 --(
PR.com
)-- Bethany Garrity, Director of Fitness Management at the National Institute for Fitness and Sport (NIFS) has been invited to speak at the 2017 ICAA Conference and Trade Show which will be held October 12-14, 2017 in Orlando, Florida.
NIFS is a leader in the fitness industry and provides fitness and wellness management services to senior living communities across the country. Bethany leads a team of fitness center managers and health fitness specialists that provide staffing and programming for residents in communities across the United States. Her staff focuses on providing residents with all the tools they need to improve fitness, including targeted programming for fall prevention and building strength and endurance. The NIFS staff are also actively engaged in facilitating meaningful lifestyle programming that inspires residents to learn new skills and try new things.
Bethany has over 20 years' experience in the health and wellness industry and is focused on providing outstanding service for her clients. She is passionate about connecting clients to the right healthy living resources to ensure that they get what they need to thrive. Bethany is an
active blogger
and writes frequently on a variety of topics related to creating more purposeful living for seniors in retirement communities. For more information on Bethany visit her profile on linked in at
www.linkedin.com/in/bethanygarrity.
The 2017 ICAA Conference and Trade Show connects aging services professionals who are facing many of the same triumphs and challenges. The conference includes more than 80 in-depth education sessions led by the best and brightest in aging services. Bethany will be presenting in two different sessions. One will cover the science of purpose and social connection, and the other is focused on helping practitioners elevate their wellness programming in senior living. These topics are central to the work NIFS staff do daily in their client settings when working with residents on creating meaningful, active, and purpose-based lifestyles.
To find out more about Fitness Center Management by NIFS, call (317) 274-3432, e-mail bgarrity@nifs.org or visit www.wellness.nifs.org. NIFS media contact, Trudy Coler (317) 274-3432, email tcoler@nifs.org.
National Institute for Fitness and Sport is a non-profit organization committed to enhancing human health, physical fitness and athletic performance through research, education and service.
Contact
National Institute for Fitness and Sport
Trudy Coler
(317) 274-3432
www.nifs.org
250 University Blvd
Indianapolis, IN 46202

Contact