Swedish Electric Car Startup Uniti Launches Record-Breaking Equity Crowdfunding Campaign
This record-breaking campaign establishes Uniti's place as a legitimate contender in the automotive space with a strong grassroots movement. The vehicle is scheduled for launch later this year. It includes significant advancements in safety, sustainability and user experience.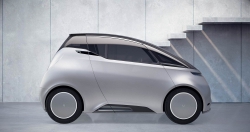 Lund, Sweden, September 16, 2017 --(
PR.com
)-- Uniti, Sweden's new electric car, successfully launched an equity crowdfunding campaign on their own website today.
Uniti's unique crowdfunding video takes the viewer on a tour through the company's headquarter in the south of Sweden and sheds light on the impressive achievements of the young company. "Working openly with our wide support network of collaborators and major companies from around the world has prepared us for the milestones ahead," says founder and CEO Lewis Horne. The video includes appearances of prominent figures such as the CEO of KUKA Robotics Nordics, renowned climate change academic Michael Molitor, and representatives from British automotive heavyweight Williams Advanced Engineering, global technology giant Siemens, as well as the Vice Prime Minister of Sweden Isabella Lövin.
The Swedish startup Uniti was founded by Australian-born Lewis Horne, a serial entrepreneur who conceived the idea out of a desire to cut the levels of toxic air pollution, which is a crucial issue faced by the global community. Uniti's innovative design addresses this with their high-tech electric vehicle that emits 42.9 tons less CO2 than an average combustion engine vehicle over its life cycle, and significantly less than any electric car on the market today.
The global electric vehicle (EV) industry is expected to be worth more than $100bn by 2020, with electric vehicles rapidly increasing their market share year on year. Despite the positive outlook, today's electric vehicles are not leveraging electric mobility technology to its full potential as vehicles on the market remain overweight. Uniti comes in with a radical proposition to produce a mass-market vehicle platform that is sustainable throughout its lifecycle and better utilises electric mobility technology.
The car itself, in the vehicle category L7e, is a two or four seater vehicle made of composite biomaterials and carbon fibres, thus making it extremely light at only 450kg. Aimed at the urban millennial market, or as the ideal second family car as a daily commuter vehicle, it has been designed with a user experience that matches modern consumer electronics trends, a significant change from the outdated user experience of cars today. Uniti includes a reliable range of 300 km, and flexible charging options, making the vehicle ideal for urban driving.
Find the crowdfunding video and more information about the campaign here: https://www.uniti.earth/invest/
About Uniti
Uniti is a light electric vehicle made from sustainable composite materials and boasting unique features such as a fully electronic steering system and a full-screen smart heads up display, as well as a unique approach to safety and sustainability. The vehicle will be launched later this year and first deliveries are scheduled for early 2019.
Contact
Uniti Sweden AB (publ)
Verena Kitowski
+46 725790541
www.uniti.earth

Contact